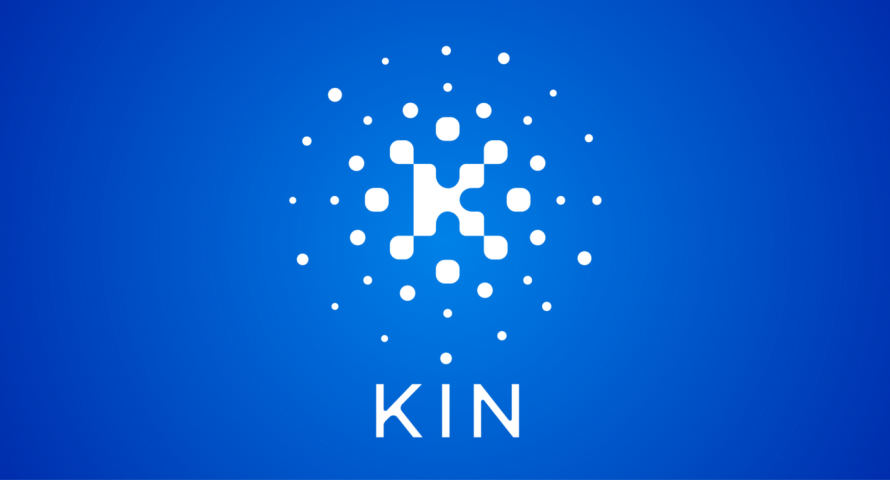 Kin is almost completely deflated when it comes to its price. By opening the month of August at $ 0.000177 / 2 satoshi, the currency peaked at $ 0.000188 / 3 satoshi on 4 . From that moment on, Kin has virtually eliminated his current daily levels.
Kin has a price of $ 0.000074 USD (9.90% jump in the last 24 hours) / 1 satoshi (15.49% jump in the last 24 hours). The daily trading volume is 169 BTC. With a market capitalization of $ 55,242,919, Kin is currently the 98 th most valuable cryptocurrency on the market.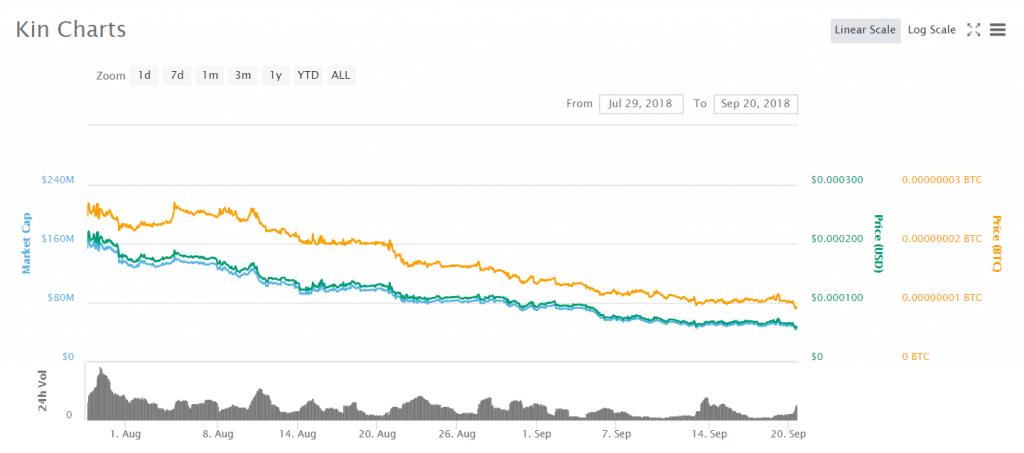 Kin Foundation recently concluded a partnership with Perfect365, an augmented beauty app with over 100 million users. Through integration, Perfect365 becomes one of the main AR beauty platforms to introduce native methods of execution of cryptocurrency transactions. The partnership will allow "beauty enthusiasts" to earn Kin by answering survey questions and then spending it through the growing Kin Ecosystem of apps. In addition, users of Perfect 365 will also have the chance to earn Kin by creating and sharing make-up looks; this option will be added in the coming months. Perfect365 also aims to increase female presence in the world of cryptocurrency:
"Although the number of women involved in cryptocurrency is increasing, a platform has not yet been created to bring cryptocurrency to women on a large scale. for 92% of women, Perfect365 will be the first beauty app AR to bring the cryptocurrency to a predominantly female audience, which was previously neglected in this emerging economy. "
Dany Fishel, the president of the Kin Foundation, had this about the partnership:
"The Kin Ecosystem continues to expand through exciting consumer app categories and the integration of Kin into Perfect365 allows us to introduce cryptocurrency to an unexploited demographic. to discover other unique and meaningful use cases for Kin as we work to achieve our goal of becoming the most widely used cryptocurrency at the world. "
Users in Australia, Canada, India, the United Kingdom and the United States will soon be able to take full advantage of the cryptocurrency features introduced by the app.
---
🏆 You could meet pump and dump groups on Telegram, Discord or other apps Read here what it's pump and dump and how it works (be very careful, it's a scam)!
---
The project has also provided an update on the Kin Developer program and other potential cases. use for cryptocurrency After talking about how Kin can benefit apps in the games category, the team has posted a post titled "Kin Developer Program: Use Cases for Crypto in Health and Fitness" which describes the next batch of Kin additions The post describes in detail the ways in which Kin can be used as a reward mechanism to stimulate a healthier lifestyle and mentions how the developers who have already joined the Kin Developer program plan to integrate and Kin to improve their health and fitness apps:
club a social platform that wants to incentivize people to achieve their goals through competition and responsibility, their users will have to compete with other users who are working for the same goal. The person who completes the goal faster will earn Kin. Kin will also be built to complete surveys, polls and quizzes.
Kinetik is an incentive-based mechanism designed to help users achieve their fitness goals. People will be able to earn Kin to achieve certain fitness goals, as measured by integration with the FitBit performance tracking platform. Users will be able to spend Kin to motivate other users to become active. They will be able to motivate others through fitness challenges, or through regular fitness programs that could be sponsored by fitness-oriented companies.
Pause For an app that rewards students for staying away from their phones while they focus on the study, will also use Kin as the basis of its reward mechanism. Users will earn currency by completing their focus missions or staying out of their phone for a certain period of time.
Remood is the first virtual reality machine app that uses brainwave scientific research and color and tone psychology to help users relax. Users will receive Kin to complete a number of relaxation sessions, revivals or revitalization in the app.
Step & Spend is a new app that will use Kin to encourage users to improve their health. Users will be able to earn Kin to complete actions, such as walking a certain distance, referring to friends or participating in National Walking Day events.
Steps is an app similar to the previous one, focusing on rewarding users who complete their
Visit is an app that helps users set small and achievable health goals, pushing them to improve their daily lifestyle and driving behavioral change. Users are rewarded for completing goals such as 10,000 steps a day, healthier meals or participation in fitness activities.
The ecosystem seems to be growing and with the latest version of the JavaScript SDK for the Kin platform, we should expect to see more projects dive to supplement the currency. Another important addition to it will be the new Chief Marketing Officer, former Twitch executive Matthew DiPietro. After serving eight years as senior vice president of the famous Twitch live streaming platform, DiPietro will now be responsible for developing marketing and brand strategies for Kin.
Overall, the adoption of the project seems to be growing on paper but it is questionable how many these numbers of raw users who are thrown around with each new partnership are real active users who will consider changing the they fiat in cryptography for an app. There has also been recent controversy over the project's provision of supply and on next September 26 release of the pre-sale tokens that will release an additional 244 billion tokens on the existing offer ($ 1.2 billion held by the Kin Foundation) , 1.2 trillion dollars held by Kik, 756 billion currently in circulation). With the Kinit app where problems occur and an apparent whale wallet n. 4 that seems to have done shady deals on the market, Kin does not seem a good investment even with its low price.
The writers and authors of CaptainAltcoin may or may not have a vested interest in any of the projects and businesses mentioned. None of the contents on CaptainAltcoin is an investment advice nor a substitute for advice from a certified financial planner.