[ad_2]
[ad_1]
The cryptocurrency market is having a bad day today, with Bitcoin going from $ 6500 to $ 6345 in an hour.
The rest of the market is reacting to the fall of Bitcoin, with Ethereum down more than 3% and XRP and Bitcoin Cash have lost 4% of their value. Litecoin saw a 6% drop on Monday. Meanwhile, Tether almost returned to $ 1, two weeks after the stablecoin dropped to $ 0.86.

It is not exactly clear what caused the sell-off on the market, but it is the first big move for most coins in a week. In recent days there have been no negative news in space that could lead to the sale of people, and today the Bitstamp exchange has also announced that it has been bought by the European investment company NXMH.
Some projects in the first 100 are not influenced by the downward trend of the market. NXT is over 10% and Polymath (4.6%), MobileGo (3.88%), FunFair (2.5%) are also seeing gains.
At the start of today, Chepicap reported on Bitcoin a new low volatility in terms of quarterly speed. Some say that Bitcoin is becoming "too stable".
Wake up. It's time to trade.

– Philakone (@PhilakoneCrypto) 29 October 2018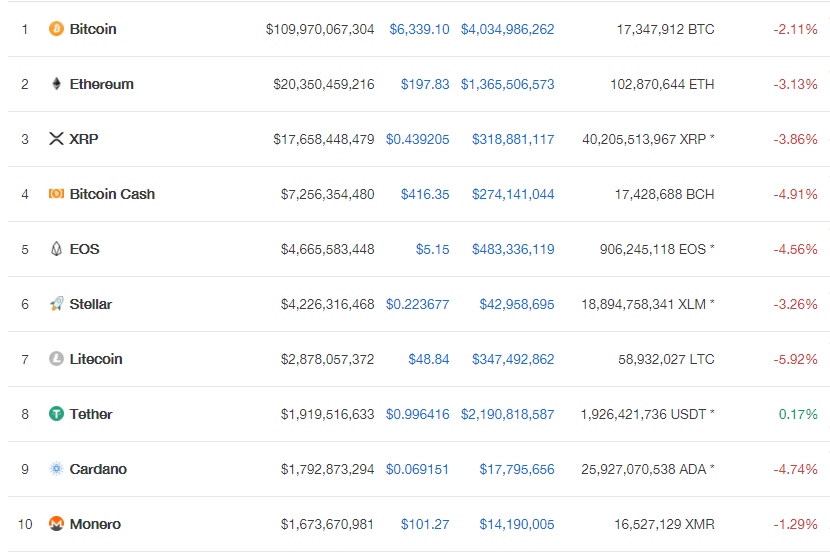 Good morning everyone except the panic sellers

– ฿ ully esq. (@BullyEsq) 29 October 2018
$ BTC deja vu: back in the range.https: //t.co/p77Jfs6Cah pic.twitter.com/pcHnzEkVSC

– Luke Martin (@VentureCoinist) 29 October 2018
Follow Chepicap now chirping, Telegram and Facebook!
[ad_2]Source link