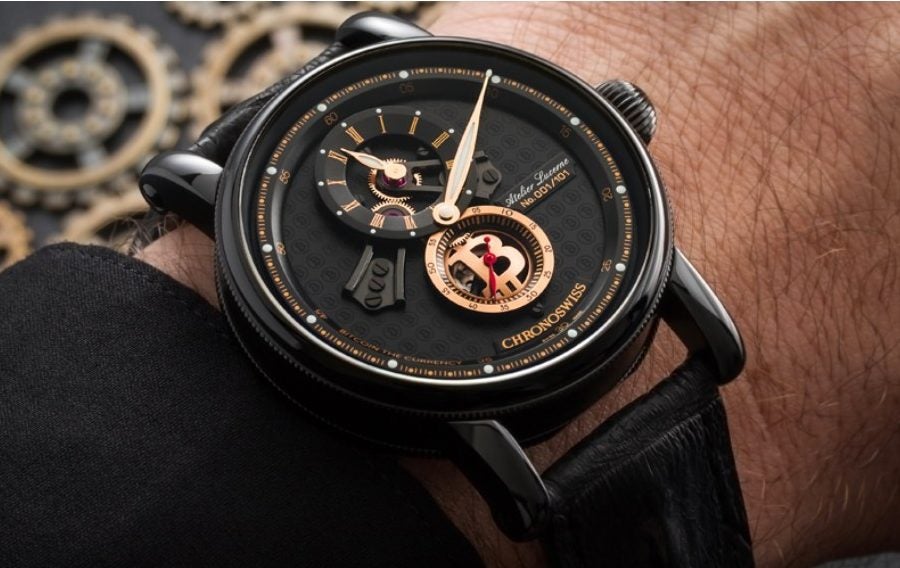 If you live and breathe Bitcoin, wear your heart on your sleeve and show your support to the crypto-currencies market in trouble with one of these crypto-themed watches.
The developer of Crypto Tech Bureau Europe and the Swiss watchmaker Chronoswiss joined together to create a line of watches. These are based on Bitcoin, NEM and Ethereum cryptocurrencies, as well as the Zaif cryptocurrency exchange and the COMSA coin bidding platform.
Each model features its own logo inside a water-resistant 16-piece stainless steel case housing the elaborate Chronoswiss movement of the C.2999 caliber. Each piece is held on the wrist by a specially selected luxury hand-sewn strap, made of crocodile leather or calfskin.
These watches were created to offer quality and precision, produced to the highest watchmaking standards, combined with the refinement of blockchain technology.
Whenever one of these limited edition watches is sold, details such as the serial number and warranty period will be recorded on the LuxTag platform with blockchain block, which helps to track precious and rare assets and prevent counterfeiting and theft .
These luxury watches are priced at 8,356.55 Swiss francs (about $ 8.383), with a design limited to just 101 pieces, which will probably make it much sought after in the sphere of cryptocurrency.
Unveiling the limited edition cryptocurrency watches, Oliver Ebstein, CEO of Chronoswiss, said:
"With this tribute to cryptocurrencies, Chronoswiss is combining the roots of traditional watchmaking with the digital revolution of new global currencies".
Bitcoin price: Believing in cryptocurrency
Chronoswiss was founded in 1983 in the midst of the ongoing quartz crisis, during which the advent of quartz watches caused the decline in sales of mechanical watches.
Despite the uncertainty surrounding the future of mechanical watches, Chronoswiss has continued to believe in the product, combining traditional Swiss watchmaking techniques with innovative features to turn the business into a success.
With the cryptocurrency market – including Ethereum and Bitcoin – which are experiencing strong declines, Chronoswiss is demonstrating similar confidence in blockchain-driven currencies.
"Cryptocurrencies and blockchain technology are the future, which Chronoswiss is also actively following and supporting, which is why we are proud to use blockchain as a marketing tool and a means of certifying our watches," Ebstein said.
The price of Bitcoin has fallen to an annual low on Sunday, dropping to a low of $ 3,456 according to Coinbase. It has since rebounded to around $ 4000, but is well below its peak of over $ 19,000 achieved in December 2017.