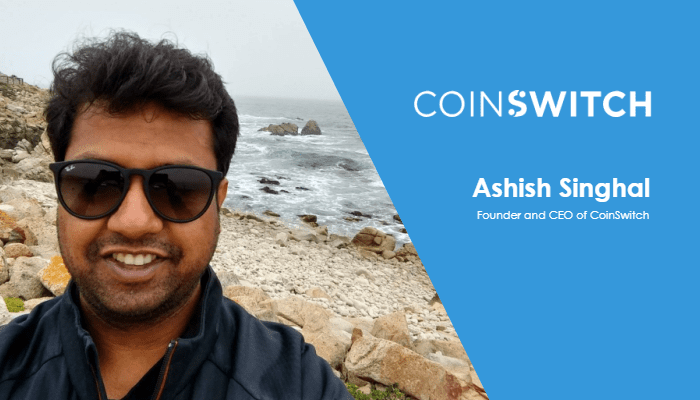 We sat down to talk to the CEO of the thriving cryptocurrency trading platform. CoinSwitch is changing the way the world trades cryptocurrency with a simple idea. It is essentially a cryptocurrency exchange aggregator, a platform in which it is possible to exchange over 300 coins. And for this you do not need an account on any other exchange. Founder and CEO of CoinSwitch Ashish Singhal explains his vision and strategy.
"What CoinSwitch aggregates all exchanges under one roof, "he explains." In CoinSwitch, we can support over 300 cryptocurrencies. This drastically increases the possibility of finding any currency that our user can search for. We had about 127 cryptocurrencies when we started. We are going to cross the sign of the 400 coins in the coming months. "
What distinguishes CoinSwitch from all the other cryptocurrant exchanges out there?
CoinSwitch is a cryptographic exchange aggregator. As exchanges continue to come and provide better services to the user, we become their partner. Instead of competing with an exchange, we let our customers use whatever exchange they want. We provide our users with the best rates by comparing them through the bags and offering a better service than what every single exchange can provide. We built CoinSwitch with the idea of ​​providing information to the user. There is a lot of fraud in the industry and it is difficult for any trader to trust any platform. So we wanted to be the platform people can trust, where they can get complete information about their operations.
How are you simplifying cryptocurrency trading?
If you look at a big exchange, for a simple user who is not very technical, it can be difficult to open an account, enter funds and then try to figure out how to trade and get the best price. It is very technical for a normal user. It is more friendly with a stockbroker, or a boy on Wall Street, to exchange such exchanges.
I use an example of Robin Hood, how they changed the way the shares are traded. Robin Hood has become easier to enter the market. Before they appeared, you had to go to a broker to exchange securities, and the process was really boring.
Do users need to be part of a stock exchange to exchange coins on the Coin Switch?
No. CoinSwitch creates accounts on behalf of the user on one of these exchanges: we are integrated into them. This allows people to exchange any decentralized token on our exchange. Users can now trade without worrying about how the back-end exchange works.
How and why did you start CoinSwitch?
We have built this product as a trick for ourselves to exchange through the bags at the best rates. My friends and I were tired of opening new accounts in exchanges just to exchange specific cryptocurrencies. To solve the problem, we created a hack that allowed us to exchange altcoins on many bags with an account. The hack became CoinSwitch after we realized that other traders will pay for such a service. We understood that the industry wanted it. Thus, a simple hack has become one of the most popular cryptocurrency trading platforms. People all over the world now use CoinSwitch. Many traders come to us because they are looking for a product like that. They were tired of creating accounts in different exchanges. They were tired of their rates.
Because it was built because we are hackers. If you can think of a hackercon, we probably won it. But my background is in e-commerce. I am an IT graduate from one of the major colleges in India. I started my career at Microsoft and Amazon. The Amazon Prime One Hour service was one of the programs I drove in India. They are a techie by heart, a hacker by heart.
How do you offer reliable support for your business?
One of the biggest benefits our team is bringing to cryptocurrency is basic customer service. CoinSwitch offers quick resolution of customer problems. We can solve any user query faster than anyone else in the industry. In just 14 minutes we will get your ticket for some sort of resolution. Since we have been doing this for a while, we know the right person at the right exchange to ask questions. If a user has a problem with an exchange, he will probably face it for the first time and will not know how to solve it. CoinSwitch is managing support for all exchanges together. We have the right amount of data that we have to move on to these exchanges to make sure things are resolved quickly.
How do you select the coins?
If users ask for a currency and meet our criteria, we will add it. Even if it takes a review from our team, we try to add the coins that our users want. How we approach this problem. First of all, it must be exchanged on one of our exchange platforms. So let's try to choose by market capitalization. And we try to add those that our users want. We have a very strong user connection. Users usually come to us and ask why not add this coin. I do not want to go into an exchange and create an account just for this currency.
Which coins do you avoid and why?
People who make ICOs can not list their coins on CoinSwitch: they must be traded on one of the exchanges we work with. For the listed coins we have our process to decide the right ones and the wrongs. We do not offer our cryptocurrency, and we do not want it in the future. What we want to do is offer a line of products that will allow any company anywhere in the world to accept any cryptocurrency they desire. We want to make it very easy for any merchant and user to accept the cryptocurrency. They will be able to easily integrate with our application program interface (API) that can be used by any company or cryptocurrency. For example, the API it can be added to digital portfolios, cryptocurrency portfolios, websites and POS terminals (points of sale). Merchants can use the API to accept payments in any cryptocurrency supported by CoinSwitch. The merchant can use CoinSwitch to quickly convert the cryptocurrency into fiat currency or a widely used altcoin, such as Bitcoin (BTC).
Tell us about your ZERO CODE solution. What is it?
Anyone can build their own cryptocurrency exchange with the help of CoinSwitch – they can start their own custom cryptocurrency transaction with CoinSwitch ZERO CODE solution. Come to our website and create an exchange. Now your website becomes a cryptocurrency exchange. For example, a cryptocurrency blogger or podcaster could create a cryptocurrency exchange connected to their website. CoinSwitch will manage the exchange and manage all operations. In return, the blogger will promote CoinSwitch.
Who are your competitors?
I do not think that CoinSwitch has direct competitors. The largest competitor aggregator offers 6,000 pairs of cryptocurrencies. Conversely, CoinSwitch offers operators access to over 45,000 pairs of cryptocurrencies. We do not compete directly with anyone because we are an aggregator.
What is your final goal for CoinSwitch?
We want to build a PayPal for crypto. I hope CoinSwitch duplicates the switch to the popular American digital wallet PayPal. I think PayPal is successful because people are not afraid to use it. People do not use cryptocurrency because they are afraid to use it. Therefore, CoinSwitch's goal is to end the fear of cryptocurrency. People should not be afraid to use it. This is the key to the market.
For more information on CoinSwitch, visit: https://coinswitch.co/.