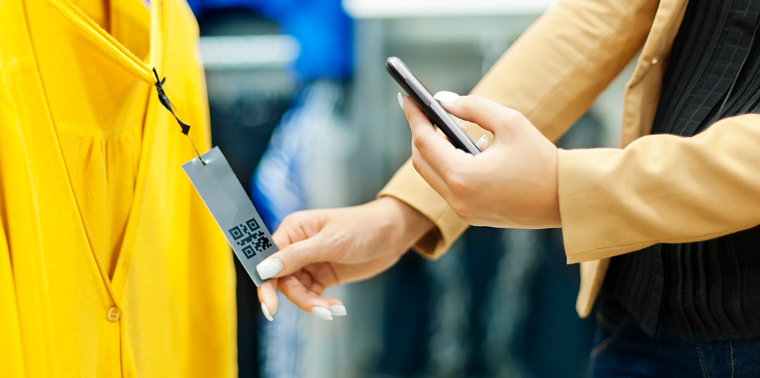 11 September 2018 – How ecological is the coffee you drank this morning? The clothes you wear? What are the social impacts of the chair you are sitting on? Perhaps you've tried to find answers to questions like these from retailers, but have not received any answers, or just a vague "commitment to sustainability"?
A desire for products to be clean and green rather than driving climate change, destruction of wildlife or modern slavery is a growing trend, particularly among young consumers. But shopping ethically is easier said than done.
A survey of 20,000 people in five countries of the consumer goods company Unilever last year found that 33% of respondents choose to buy from brands they believe are doing a social or environmental good, with 21% declaring that they want to actively choose brands if they have made their sustainability credentials on packaging and marketing clearer. At the same time, many people are increasingly skeptical of statements made by media, politicians and businesses. A survey of 2016 conducted by the product analysis company Label Insight found that 75% of respondents did not trust the accuracy of food labels.
A growing number of business leaders are realizing that it is necessary to find a way for consumers to check the history of their product. If a consumer can use a smartphone app to find out which country a product comes from, what certifications it holds and even the name of the farmer or miner who produced it, believe these executives, that the product it will not only have the advantage over others, but also reduce the environmental and social impacts of supply chains as ethical companies gain market shares compared to those that are not.
Benefits of the Blockchain
Blockchain technology is emerging as a powerful way to do it. Best known for being the programming protocol behind cryptocurrencies like Bitcoin, blockchain is essentially a digital ledger. The information is not held by a central authority or an organization, but in an encrypted and distributed computer network, making it secure and shareable. The technical explanation is complex, but experts say that blockchain essentially makes data tamper-proof, so it can not be deleted or manipulated anywhere.
Suppose that a food company wanted to be able to convince you that its meat was produced in a way that meets the parameters for animal welfare and sustainable agriculture. It could create a blockchain platform that each member of its supply chain could view and upload information about.
Each participant in the chain will send the information for its respective part in the blockchain process as a block of data – breeding the animal, slaughtering it, or packing, transporting or selling the meat. The parties selected in the supply chain, as defined by the contract, would each see an encrypted code representing the block of data added.
If everyone agrees that they are seeing the same code, then the information is considered accurate and written on the blockchain – that is, included as part of the verified product description. This process, called "consent", guarantees the accuracy and maintains any level of trust that was originally given to the members of the blockchain without the need to share the actual data with all those on the blockchain. Only direct parties that negotiate together, like a processor that sends packaged meat to a retailer, will see the actual information for their transactions. (With an exception: a regulator could see all the information on the blockchain.)
The information would be incorporated into a QR code on the meat package, which consumers could scan with a & rs; smartphone app. They could then see who raised the animal, how it was bred, how many animals were raised in its group, who was the butcher and how the animal was slaughtered.
"The use of blockchain technology helps us authenticate the story of a product," says Cody Hopkins, director general of the agricultural cooperative of Grass Roots a meat company based in Arkansas. "We're not just us as a brand that types information, it's actually an ecosystem of users, each with their own account on the platform where transactions are verified by consensus."
The cooperative uses a blockchain platform developed by the United Kingdom technology-based technical group Provenance to provide customers with information on animal welfare and environmental standards used in the production of its meat.
"The information recorded on the blockchain is therefore publicly available and can not be changed, it's a really exciting way to tell our story," says Hopkins.
The leading Finnish food retailer S-Group collaborated with the technology giant IBM to trace information about the origin of its perch, a popular fish in the country. By scanning a QR code on the fish pack, buyers can discover the lake where the fish was caught and what methods were used to catch the fish.
"This is a great way to raise awareness of the discussions about what we should eat and where it should come from," says Tomi Lehikoinen, retail executive at IBM.
In the southern hemisphere, WWF conservation organization teams in Australia, Fiji and New Zealand collaborated with technology companies ConsenSys and TraSeable and tuna fishing company Sea Quest Fiji to develop the blockchain traceability of tuna. It is expected that the system will allow consumers to use the smartphone app to monitor where a fish was caught and which fishing method was used. The team is now signing more partners and expanding the project for wider industry adoption.
Other companies have started to use blockchain for reasons other than tracing the environmental and social impact of supply chains, but have now moved into this area.
Everledger digital tracking technology company initially used blockchain to prevent insurance fraud in the diamond industry. But consumer demand to prove that jewelry was not driving conflicts and, more recently, information about their carbon footprint and energy, has led to extending its focus to sustainability, says Edward Mendelson, Everledger's project leader for supply chains sustainable. The company now also tracks the supply chain of colored gemstones, metals and minerals using the blockchain, says Mendelson.
The world diamond giant De Beers is also working on a blockchain-enabled platform called Tracr to involve companies through the supply of chain diamonds in providing information. So far, he has five manufacturers and a Signet jewelry retailer on board, and hopes to provide information to consumers.
Still a role for certification
A challenge for the use of blockchain to verify claims on supply chains is that it can show what inputs are going to make a product, but it can not prove to a consumer that these inputs have a low environmental or social impact. This is why auditing and certification and accurate data input are still required.
"Blockchain is useless in telling you if something is organic or not.You need an auditor or a certification for it," says Jessi Baker, founder of Provenienza. "But it means you can not duplicate a record and claim to have more organic products than you have. Create a single source of truth for that product."
Dave Rejeski, director of the technology, innovation and environment project at the US Environmental Law Institute, sees opportunities to also improve the certification process. "At some point we might be able to use machine learning and other artificial intelligence tools to automate it, for example from satellite imaging," he says.
Ultimately, blockchain-based networks could be self-managed, Baker believes. "If a supplier was lying, there would be a strong incentive to call them because the network is owned by its participants and they will not want the network to devalue," he says.
Other challenges facing the nascent application of the blockchain to supply chain authentication include the immaturity of technology, the lack of consumer awareness of the blockchain and the lack of industrial standards. Despite these challenges, blockchain continues to advance – and in some cases is becoming the norm – as a tool to ensure supply chain integrity.
"If your company is not doing this and you're still hiding behind an opaque supply chain," Mendelson says, "then you'll lose business."