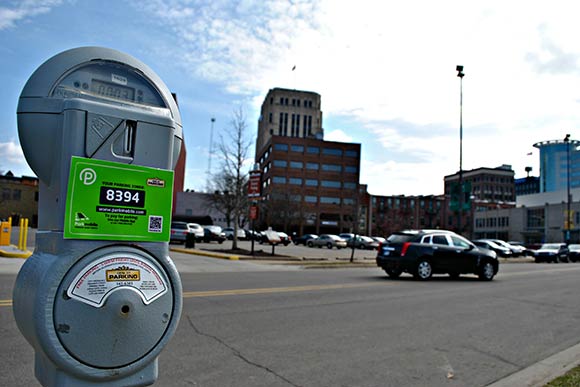 If you've ever rummaged in your wallet looking for quarters to power the meter just to realize it, you've spent it all at the bar, the latest innovation from Central City Parking and Downtown Kalamazoo Inc. is for you.
The transactions on the parking meters can now be carried out using a mobile phone. Those using the parking meters in the center of Kalamazoo now have the option of paying for parking through a mobile application that works with iPhone, Android, Windows and Blackberry smartphones.
The service is offered by Parkmobile USA, Inc. The company services are used in more than 500 locations in the United States.
To use the new Parkmobile system, customers can register for free on www.parkmobile.com or via the downloadable mobile app. Once registered, they can use the mobile app, the Internet or a toll-free number to pay for parking.
At the start of a parking session a transaction fee of 35 cents of parking will be charged. This is in addition to regularly charged parking fees. Parking rates on all central meters will remain unchanged and payment of coins will continue to be accepted.
After setting up the account, customers can immediately start buying parking lots through the mobile app by entering the zone number indicated on the meter and paying with their credit card, debit card, PayPal or wallet. Parkmobile.
Parking officials will be equipped with a handheld device used to identify Parkmobile payments.
Mobile app users can also choose to receive alerts and reminders 15 minutes before their parking session expires. Parkmobile will not allow users to buy more time than expected by the meters.
Kalamazoo is the ninth-largest city in Michigan to use the Parkmobile payment option for its parking meters. Also Dearborn, Grand Rapids, Petoskey, Traverse City, Mount Clemens, South Haven, Grosse Pointe, Ferndale and Birmingham use it. Parkmobile is also available on the campus of Western Michigan University.
"I am excited to see Kalamazoo take this forward-looking position on the parking lot, making the center more convenient and accessible, just like other big cities like Grand Rapids and Ann Arbor," says Susan Terranella, co-owner of Cakes Boutique and President of the Kalamazoo Center Restaurant and Retail Association. "This can only mean positive things for the downtown shopping community".
Source: Denise Negrea, Downtown Kalamazoo Inc.