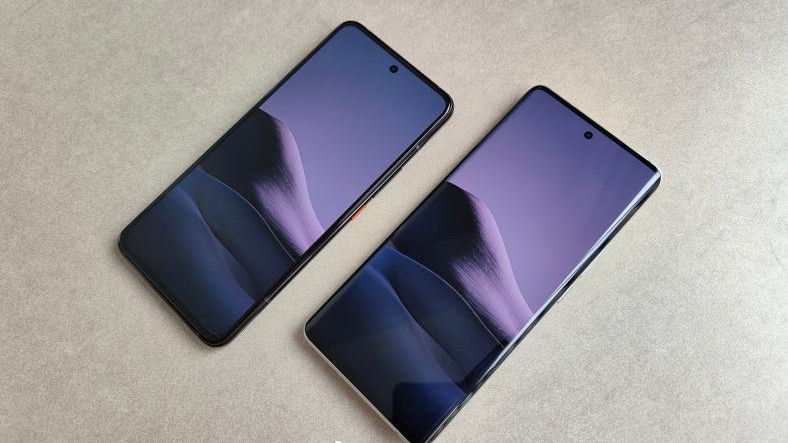 [ad_1]
The first images have come from Mi 11 and Mi 11 Pro, which will be Xiaomi's latest flagships. According to the shared images, Xiaomi is not considering a major design change in the new generation flagships.
The next flagships of the Chinese smartphone manufacturer Xiaomi Mi 11 and Mi 11 Pro Although it was still a few months before it introduced its models, the first serious leaks on the devices began to arrive. Digital Chat Station, which previously made many leaks, revealed the first details of the design of Mi 11 and Mi 11 Pro with its Twitter sharing.
According to shared images, the Xiaomi Mi 11 family, perforated screen will continue its design. However, in the Mi 10 family, the hole in the upper left corner of the screen is moved to the upper central part of the screen together with the Mi 11 family. Also, according to the shared images, while the standard model Mi 11 has a flat screen; Mi 11 Pro, both sides curved screen Will have.
First images of Xiaomi Mi 11 and Mi 11 Pro
RELATED NEWS
Some Xiaomi Mi 11 camera features revealed
According to the information provided by the Digital Chat Station, most likely the Xiaomi Mi 11 family is Snapdragon 875 they will be the first smartphones to be powered by the processor. Qualcomm will hold its annual launch event, where it will introduce the Snapdragon 875 processor, on December 1, and Xiaomi will also unveil its new flagships earlier this year.
Digital Chat Station claims that Xiaomi will seriously improve the ultra wide angle camera, in particular. The Mi 10's 13MP ultra wide-angle camera has a pixel size of 0.8 microns A 48 megapixel ultra wide angle camera will be replaced with. Xiaomi is also rumored to improve optical image stabilization technology.
Source:
https://www.gizchina.com/2020/11/11/heres-the-first-live-photo-of-the-upcoming-xiaomi-mi-11-and-mi-11-pro/
if(!isMobile) { $(function(){
//facebook window.fbAsyncInit = function() { FB.init({ appId : '1037724072951294', xfbml : true, version : 'v2.5' }); };
(function(d, s, id){ var js, fjs = d.getElementsByTagName(s)[0]; if (d.getElementById(id)) {return;} js = d.createElement(s); js.id = id; js.src = "https://connect.facebook.net/tr_TR/sdk.js"; fjs.parentNode.insertBefore(js, fjs); }(document, 'script', 'facebook-jssdk'));
$('body').on({ click: function() { // facebook save button ajax FB.XFBML.parse(); } }, '.facebook-save');
// share scroll if ($('.content-sticky').length > 0) { if ($(window).width() >= 768) { $(window).on('scroll', function () { var scrollTop = $(this).scrollTop(); $('article').each(function () { if (scrollTop >= ($(this).find('.content-body').offset().top - 76)) { $(this).find('.content-sticky').addClass('sticky'); if (scrollTop >= ($(this).find('.content-body').offset().top + $(this).find('.content-body').height() - ($(this).find('.content-sticky').height() + 92))) { $(this).find('.content-sticky').removeClass('sticky'); $(this).find('.content-sticky').css({'bottom': '0px', 'top': 'auto'}); } else { $(this).find('.content-sticky').addClass('sticky').css({ 'bottom': 'initial', 'top': '76px' }); } } else { $(this).find('.content-sticky').removeClass('sticky').css({'bottom': 'auto', 'top': '0'}); } }); }); } }
// share click $('body').on({ click: function (){ var $this = $(this), dataShareType = $this.attr('data-share-type'), dataType = $this.attr('data-type'), dataId = $this.attr('data-id'), dataPostUrl = $this.attr('data-post-url'), dataTitle = $this.attr('data-title'), dataSef = $this.attr('data-sef');
switch(dataShareType) { case 'facebook': FB.ui({ method: 'share', href: dataSef, }, function(response){ if (response && !response.error_message) { updateHit(); } });
break;
case 'twitter': shareWindow('https://twitter.com/intent/tweet?via=webtekno&text="+encodeURIComponent(dataTitle) + " %E2%96%B6 ' + encodeURIComponent(dataSef)); updateHit(); break;
case 'gplus': shareWindow('https://plus.google.com/share?url=" + encodeURIComponent(dataSef)); updateHit(); break;
case "mail': window.location.href="https://news.google.com/__i/rss/rd/articles/mailto:?subject=" + encodeURIComponent(dataTitle) +'&body='+ encodeURIComponent(dataSef); //updateHit(); break;
case 'whatsapp': window.location.href="whatsapp://send?text=" + encodeURIComponent(dataTitle) +' %E2%96%B6 '+ encodeURIComponent(dataSef); updateHit(); break; }
function shareWindow (url) { window.open(url, "_blank", "toolbar=yes, scrollbars=yes, resizable=yes, top=500, left=500, width=400, height=400"); }
function updateHit () { $.ajax({ type: "POST", url: dataPostUrl, data: {contentId: dataId, contentType: dataType, shareType: dataShareType}, success: function(data) {
if ($('.video-showcase').length > 0) { var $container = $('.video-showcase'); } else if ($('article[data-id="' + dataId + '"]').length > 0) { var $container = $('article[data-id="' + dataId + '"]'); } else if ($('.wt-share-item[data-id="' + dataId + '"]').length > 0) { var $container = $('.wt-share-item[data-id="' + dataId + '"]'); } else { $container = null; }
//var $container = dataType == 'video' ? $('.video-showcase') : $('article[data-id="' + dataId + '"]');
if ( $container != null && $container.length > 0 ) { var $badged = $container.find('.wt-share-badge-' + dataShareType);
var $headerCount = $('.content-header').find('.wt-share-count'), $containerCount = $container.find('.wt-share-count'), value = parseInt($containerCount.html()) + 1;
$container.data('share', value); //$containerCount.html(value);
if ($headerCount.length > 0) { //$headerCount.html(value); }
if ( $badged.length > 0 && (dataShareType == 'facebook' || dataShareType == 'twitter')) { if ($badged.hasClass('is-visible')) { //$badged.html(data); } else { //$badged.addClass('is-visible').html(data); } } }
} }); } } }, '.wt-share-button') }); }


[ad_2]
Source link