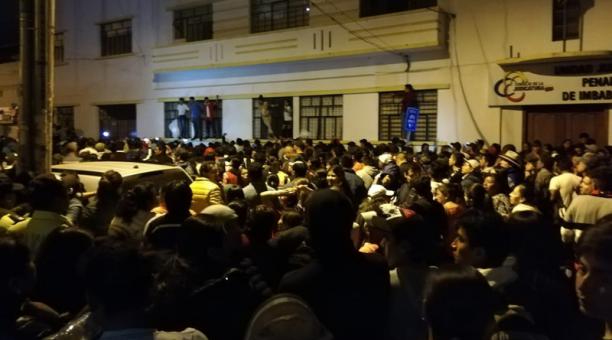 Women, children and even elderly people had to be protected by the same police in Ecuador, to avoid a tragedy in the face of public events that took place in Ibarra, where a Venezuelan killed a 22-year-old pregnant woman, the newspaper El trade.
Sunday afternoon began peacefully with a march to condemn gender-based violence, even with a gang rape against a 35-year-old woman who had nothing to do with the Venezuelans. However, many protesters changed the subject and started shouting at the citizens of Venezuela, they published that medium.
About 10:30 pm a group entered a house where foreigners remain and have taken their belongings and burned them on the street. They also threatened them with the song: "If you kill again, we will burn you", as you can see in one of the many videos published on social networks.
NOW / In #Ecuador at the cry of "Fuera Malditos Asesinos", the community and Ibarra go through the streets to "hunt" the Venezuelans, violate their residences and burn their things. They threaten that if they do not leave the city, "they will burn them" # 20 @ReporteYa pic.twitter.com/dWH7HaBXYL

– Obeysser Prada T (@ObeysserPrada) 21 January 2019
Then, the group went to a municipal reception center in the center of Ibarra and tried to enter to do the same, but they did not succeed because the place was guarded by the police, according to the Ecuadorian newspaper.
Venezuelans are persecuted in Ibarra, Ecuador, after another killed his Ecuadorian pregnant partner on a public road. The police did not act to prevent it. But the problem is nationality, not gender violence or police incompetence #NoALaXenofobia pic.twitter.com/zsTqqFvrpn

– Karisa López (@ Karil_10) 21 January 2019
The fervent climate of tension forced many to leave the city, fearful of their lives. Even many Venezuelans have been persecuted and persecuted at Ibarra station, where migrants look for tickets for any city, explains El Comercio.
Terminal of #ibarra #Ecuador Please spread. Let the world know and take action to ensure the safety and security of our friends, family and friends #venezolanos They live there and are persecuted because of a martin. Our people need help. pic.twitter.com/7EM7xgJN9G

– Jose Miguel Delgado (@josedelgado_ve) 21 January 2019
According to this newspaper, there were 4 arrested for these acts and the violent reaction against Venezuelan families occurred a few hours after President Lenin Moreno announced that he had "organized brigade training to monitor the legal situation of Venezuelan citizens. in the "Roads, in the workplace and at the border".
Here, more videos of the situation in Ibarra, Ecuador:
#AmanecerRCN | Xenophobia in Ecuador: after a Venezuelan was identified as the killer of a pregnant Ecuadorian citizen, several residents of the region faced him against dozens of migrants https://t.co/H7FQLrR2ks pic.twitter.com/NzuEb9hU5Q

– RCN News (@NoticiasRCN) 21 January 2019
10:07 There are demonstrations in the city of Ibarra, Ecuador, after the bloody feminicide against an Ecuadorian woman. "Out of the poisons!" the demonstrators exclaim. pic.twitter.com/bIRGyuZpSm

– Gregory Jaimes (@GregJaimes) 21 January 2019
in @ElUniversoCom reports a wave of xenophobic attacks in Ecuador against refugees from Venezuela. Some victims were attacked with stones and persecuted on the outskirts of the city. pic.twitter.com/VgMloGLH1S

– Daniel Blanco (@DanielBlancoPz) 21 January 2019
#Ecuador #Ibarra | This has already exceeded the limits
A mob pursues a mother and her two sons to be Venezuelans.@lenin @mariapaularomo @PoliciaEcuador @DEFENSORIAEC @ValenciaJoseEc this must stop now! #NoALaXenofobia pic.twitter.com/geR97glGql

– Maibort Petit (@maibortpetit) 21 January 2019
"To sweep and clean up our city …" A terrible situation is experienced with the Venezuelans #Ibarra #Ecuador. The mediation of international organizations is urgently needed in the event that the Ecuadorian police do not stop this situation. #NoALaXenofobia pic.twitter.com/ApDj0dS9NQ

– Cristian Crespo F. (@cristiancrespoj) 21 January 2019