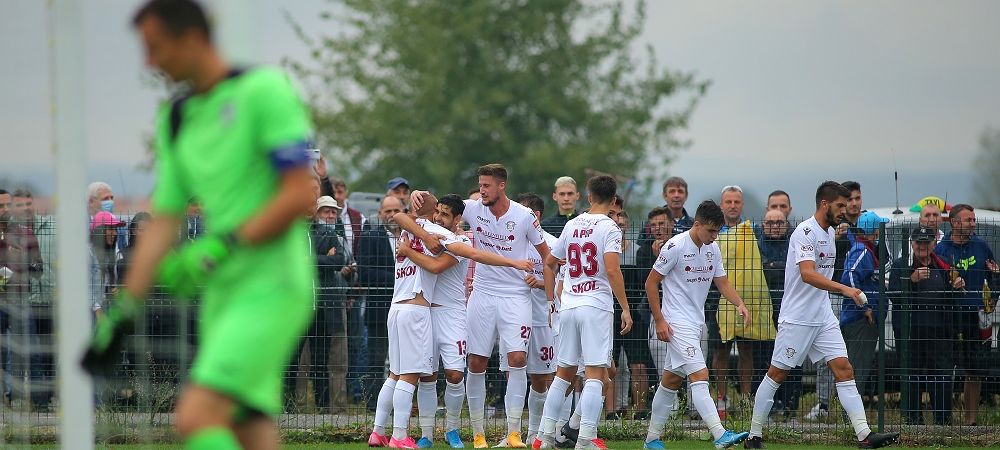 AEROSTAR BACAU 2-3 FAST
Min. 69:
GOOOAAAL – Aerostar!
Chirila reduces the difference after one hundred from the square. The ball reached him after a refusal from Draghia.

Min. 52:
GOOOAAL – Quick!
Draghiceanu scores on the edge of the box with a shot that the visiting keeper has no way out.

Min. 46:
The game resumed.

Min. 45: Break in Bacau.

Min. 40:

GOOOAAAL – Aerostar!

Manole shortens the distance with a goal in the center of the area.

Min. 29: Rapid remains in 10 people after the elimination of Nastos, who had a hand attack on Manole's throat.

Min. 9:

GOOOAAL – Quick!
Jorza scores after an exchange of passes with Draghiceanu on the edge of the area, completed with a diagonal shot.
Min. 2: GOOOAAL – Quick! Hlistei opened the scoring after a shot from 11 meters.

Min. 1: The match has begun.

Starting teams:
Aerostar Bacau: Cebotari – Alecsandru, Ardei, Chirila, Corban, Popescu, Gavrila, Ilie, Manole, Vraciu, Zaharia

Reserves: Petrisor – Zaharia, Burlacu, Danale, Mihalcea, Otelita, Bobaru, Belciu, Tofan
Quick: Draghia – Voicu, Crisan, Nastos, Finica, Jorza, Costin, Ilie, Sefer, Draghiceanu, Hlistei

Reserves: Ciuculescu – Catrici, Mocioaca, Leaca, Goge, Benzar, Fica, Pop, Ghinet
---
The only match of the day in League 2 brings Aerostar Bacau and Rapid face to face.

Giulestenii, who arrives after two positive results, 2-1 with Farul and 1-0 with "U" Cluj, has the possibility to climb the place of the playoffs in case of victory.