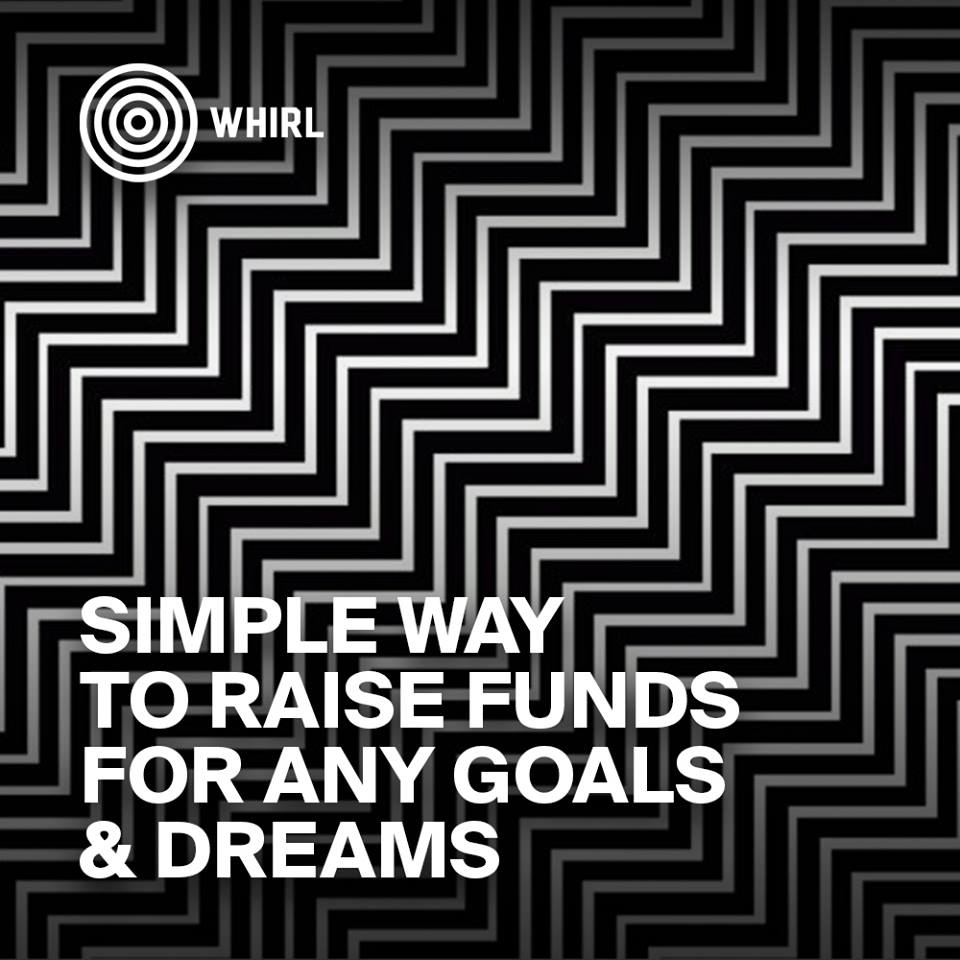 Crowdfunding has become a ubiquitous form of collecting money and investments. It has become so prevalent in our society that millennials are now turning to this method to reach the scale of ownership. According to Property Reports, Jatin Ondhia, CEO of Shojin Property Partners says, "It is not surprising that real estate crowdfunding has become very attractive for this age group, giving them the opportunity to set foot on the real estate ladder, with an investment starting by only £ 5,000 Millennials are the first to adopt technology, so they are happy to use their smartphones to invest small amounts of money in a series of investments. "
But this crowdfunding phenomenon has been diminished by the colossal impact that blockchain technology has had. But now, a startup aims to combine the two, to combine the best of both worlds.
WHIRL is a crowdfunding platform based on blockchain and socially driven, with an extra unique touch. On WHIRL, contributing to others increases your position, maximizing the success of the campaign and inspiring a whirlwind of good that will resonate around the world. WHIRL is inspired by the historical community that provides funds, but uses blockchain technology to allow anyone to participate, regardless of geographic location or currency. In addition to facilitating campaigns by individuals, in sectors such as art, education, health care, science and travel, WHIRL collaborates with leading non-profit organizations to improve their exposure and offer them access to new capital. His leadership team has extensive experience in non-profit organizations, blockchain and crowdfunding.
Managed by a team of 20 people with the support of an extensive business network, WHIRL launches after years of research and after a year and a half of development with an accurate legal analysis as the first credible consumer crowdfunding platform based on blockchain of the market. WHIRL is co-founded by Roel Wolfert, a pioneer of digital payments, a founding member of Liqwith, an early consultant to Bancor and former Senior VP at VISA, and Martijn Hekman, who led large humanitarian efforts in 15 countries, for World Vision, United Nations and various NGOs.
"Consumer crowdfunding has been an original case for blockchain technology, and today we realize its promise and potential with WHIRL," he says. co-founder Roel Wolfert"But we did not stop here WHIRL was created to unite the world in mutual self-help and create a platform with a real social impact that helps people realize their dreams".
In the last decade, crowdfunding has been stagnating due to oversaturation, fraud and falling rates of success. WHIRL solves these problems by listing a limited number of campaigns at the same time and encouraging supporters with a system of fair and transparent points, called "Karma". When you support a campaign on WHIRL you earn Karma. Then when it's your turn to create a campaign to realize your dreams, your Karma determines when it goes live and how much it can increase. This feedback loop forward was inspired by the historic community that offers pools.
"WHIRL offers a completely realized and disruptive alternative to yesterday's bank loans," he says co-founder Roel Wolfert"Without taking out debts, you can use it to finance anything: scientific activities, artistic projects, Olympic dreams, education, travel, medical expenses and new business ideas, and it is nourished by the mantra that you give the more you receive."
As a socially driven platform, WHIRL helps people raise money for their dreams and obligations without having to ask friends and relatives for donations, send deceptive rewards, or make expensive and often paralyzing bank loans. It will help non-profit organizations increase their exposure and give them access to an immediate new source of capital. Every non-profit organization approved by WHIRL receives special placement slots for campaigns, without platform costs and gift supporters with Karma bonuses.
"As someone who led global humanitarian efforts in Syria, Iraq and Afghanistan, I know firsthand how difficult it is for global nonprofits to receive and distribute aid," he says. CEO and co-founder Martijn Hekman"We built WHIRL to help non-profit organizations and populations that have been excluded from the crowdfunding revolution because of their geographical and banking conditions."
WHIRL is launched with 3 live campaigns. The first is to finance an artistic performance e music show of the acclaimed and provocative artist, Sandra Kowalskii. The second one it is to finance a personal expedition to conquer Kilimanjaro. And the third is to finance a unique fantasy video game that lets you shake your phone like a magic wand.
Key points:
First credible consumer crowdfunding platform based on blockchain; launches after many years of research, a year and a half of development and complete legal control.

Built by a team of non-profit veterans, blockchain and crowdfunding, including Martijn Hekman (NGO, United Nations), Roel Wolfert (Transtrack International, Bancor Foundation, Liqwith), Valery Zobov (MegaLine) and Anti Danilevski (KICKICO).

It can be used to finance anything, within reasonable limits, from scientific efforts to personal goals, from medical expenses to new business ventures.

Designed to turn each campaign into a success story by listing a limited number of campaigns at the same time, encouraging support with a points system and introducing a fair and transparent campaign queue.

For every dollar equivalent you spend supporting a campaign, you earn 7-20 Karma points. You must reach a Karma threshold to create your campaign and your Karma balance determines when your campaign will be published and how much it can increase.

WHIRL supports 12 different cryptocurrencies:

ADA (Cardano), BCH (Bitcoin Cash), BTC (Bitcoin), DASH (Dash), EOS (EOS), ETH (Ethereum), KICK (KickCoin), LTC (Litecoin), USDT (Tether), XML (Stellar) and XRP (Ripple)

. If you support a campaign with its cryptocurrency platform, WRL, you earn 10 Karma per dollar. Partners' cryptos earn 8.5 and every other crypto earns 7.

Because WHIRL is on the blockchain, it is a global platform that allows anyone to participate regardless of region or banking status. To reach the widest possible audience, WHIRL is also working to accept the fiat currency.

WHIRL is a socially driven platform. The selected non-profit organizations receive support for white gloves, their campaign slots, have renounced the platform fees and increase incentives for supporters (20 Karma contributions per dollar).
Disclosure: This article includes a client of an Espacio portfolio company
Source link