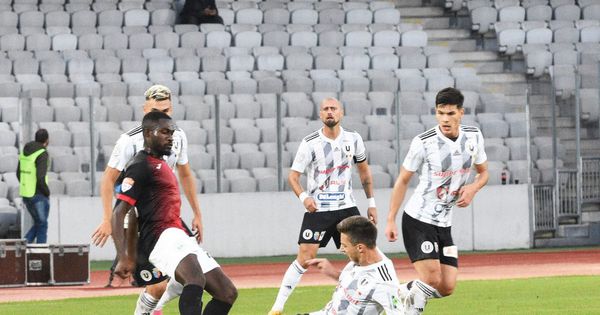 matches Ripimi Timișoara – CS Mioveni is In Cluj – Constance lighthouse should have contested Wednesday 2 December.
The Rethink – CS Mioveni match of round # 13 was postponed for the first time after the hosts announced 9 cases of Covid-19. Now, however, the Argeș team is the one that has infected the players and cannot play. However, CS Mioveni will win with a score of 3-0 at the "green table", because the regulation is against the team due to which the event could not be contested for the first time.
Think again Timisoara protest
Club Ripensia Timișoara took note of the cancellation of the match with CS Mioveni, scheduled for Wednesday 2 December, at 14:00, as a delay from the 12th round of League 2. A little more than 24 hours from the match, cthose who were supposed to be the guests of Timisoara were "STOPPED" on the street by the DSP, the place where more and more League 2 and League 3 games are "played". Not for League 1, because there the club's representatives were warned that they would lose money from television rights.

On National Day, the first professional club in Romania wishes Romanian football a speedy recovery, guided in this difficult period by some totally wrong and unjust rules and by some decisions of the clubs, lacking fair play, which seriously damage the competition. League 2 hierarchy must be established on the playing field, not at the DSP!
– Press release
U Cluj – Farul, decided at the "green table" according to the same scenario
At the same time, the clash between U Cluj and Farul Constanța will be won by the team from the seashore, considering that, initially, it was the Transylvanians who declared a Covid-19 outbreak in the group. League 2 matches can only be rescheduled once, and in the event that the match cannot be rescheduled, regardless of who has problems this time, the schedule will be decided at the "green table" in favor of the team that could play the match. initial.
U Cluj wants to change the regulations
Farul Constanța announced today that 6 of the team members would test positive. FC Universitatea Cluj will use all the levers at its disposal to decide the result on the football field, not elsewhere.

It's December 1st and our team's 101-year history forces us not to stop fighting for clean football.

FC Universitatea Cluj has officially asked the Romanian Football Association to reschedule the match within 24 to 48 hours. We believe that the game can be played in complete safety, according to sporting and medical regulations.

We also ask the Federation to urgently change the rules so that such cases are no longer possible and the final score is set by the players, not the leaders.
– The U Cluj communiqué
⚠️ Following periodic testing for COVID-19, 6 members of our team tested positive. Club …

Posted by FC Farul Constanța on Tuesday 1 December 2020
VIDEO. Alexandru Iacob attacks a Rapid official: "After Daniel Niculae left, he removed all the players he brought"
Read more League 2 news:
They moved into a rented house. Amazing what they found under the rug! For 34 years, no one knew
Freedom