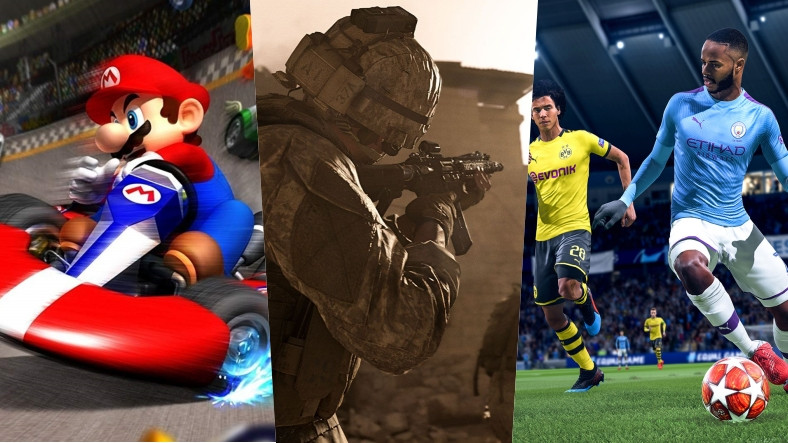 [ad_1]
According to research conducted on a group of video game enthusiasts, Mario Kart increases heart rate more than many other games and puts players more stressed.
There are many games in the video game industry that give players different emotions. So can you guess which game causes the most stress? According to a new study Mario Kart; It has become the most stressful game in the world, surpassing games like FIFA and Call of Duty.
First of all, the quest consists of 14 players. an extremely small sample Let's say it was made with. For this reason, we cannot say that the results obtained in the study are 100% valid. However, it can be said that the methods used to obtain results are acceptable.
14 players with high levels of stress, researchers Played 16 different games for 30 minutes and this measured normal heart rates. Mario Kart, developed and published by Nintendo, is the game that increases the average heart rate the most in 8 hours. the most stressful game happened.
According to the research results described, players who play Mario Kart average heart rate 85 BPM happened. This value; 84 in FIFA 20, 83 in Call Of Duty: Modern Warfare, 81 in Dark Souls III and Fortnite, 80 in Doom Ethernal, 78 in Fall Guys, Battlefield V It dropped to 76 in Street Fighter, 75 in Street Fighter and 69 in Among Us.
RELATED NEWS
Unknown to anyone for years among us, how did it succeed?
Researchers determine the participants play for at least 15 hours a week and although they claimed to have chosen extremely passionate video game participants, as we said at the beginning of our report, we can say that the study results reveal surprising but inconclusive results, since a sample of 14 people does not have enough variables for a study scientific.
if(!isMobile) { $(function(){
//facebook window.fbAsyncInit = function() { FB.init({ appId : '1037724072951294', xfbml : true, version : 'v2.5' }); };
(function(d, s, id){ var js, fjs = d.getElementsByTagName(s)[0]; if (d.getElementById(id)) {return;} js = d.createElement(s); js.id = id; js.src = "https://connect.facebook.net/tr_TR/sdk.js"; fjs.parentNode.insertBefore(js, fjs); }(document, 'script', 'facebook-jssdk'));
$('body').on({ click: function() { // facebook save button ajax FB.XFBML.parse(); } }, '.facebook-save');
// share scroll if ($('.content-sticky').length > 0) { if ($(window).width() >= 768) { $(window).on('scroll', function () { var scrollTop = $(this).scrollTop(); $('article').each(function () { if (scrollTop >= ($(this).find('.content-body').offset().top - 76)) { $(this).find('.content-sticky').addClass('sticky'); if (scrollTop >= ($(this).find('.content-body').offset().top + $(this).find('.content-body').height() - ($(this).find('.content-sticky').height() + 92))) { $(this).find('.content-sticky').removeClass('sticky'); $(this).find('.content-sticky').css({'bottom': '0px', 'top': 'auto'}); } else { $(this).find('.content-sticky').addClass('sticky').css({ 'bottom': 'initial', 'top': '76px' }); } } else { $(this).find('.content-sticky').removeClass('sticky').css({'bottom': 'auto', 'top': '0'}); } }); }); } }
// share click $('body').on({ click: function (){ var $this = $(this), dataShareType = $this.attr('data-share-type'), dataType = $this.attr('data-type'), dataId = $this.attr('data-id'), dataPostUrl = $this.attr('data-post-url'), dataTitle = $this.attr('data-title'), dataSef = $this.attr('data-sef');
switch(dataShareType) { case 'facebook': FB.ui({ method: 'share', href: dataSef, }, function(response){ if (response && !response.error_message) { updateHit(); } });
break;
case 'twitter': shareWindow('https://twitter.com/intent/tweet?via=webtekno&text="+encodeURIComponent(dataTitle) + " %E2%96%B6 ' + encodeURIComponent(dataSef)); updateHit(); break;
case 'gplus': shareWindow('https://plus.google.com/share?url=" + encodeURIComponent(dataSef)); updateHit(); break;
case "mail': window.location.href="https://news.google.com/__i/rss/rd/articles/mailto:?subject=" + encodeURIComponent(dataTitle) +'&body='+ encodeURIComponent(dataSef); //updateHit(); break;
case 'whatsapp': window.location.href="whatsapp://send?text=" + encodeURIComponent(dataTitle) +' %E2%96%B6 '+ encodeURIComponent(dataSef); updateHit(); break; }
function shareWindow (url) { window.open(url, "_blank", "toolbar=yes, scrollbars=yes, resizable=yes, top=500, left=500, width=400, height=400"); }
function updateHit () { $.ajax({ type: "POST", url: dataPostUrl, data: {contentId: dataId, contentType: dataType, shareType: dataShareType}, success: function(data) {
if ($('.video-showcase').length > 0) { var $container = $('.video-showcase'); } else if ($('article[data-id="' + dataId + '"]').length > 0) { var $container = $('article[data-id="' + dataId + '"]'); } else if ($('.wt-share-item[data-id="' + dataId + '"]').length > 0) { var $container = $('.wt-share-item[data-id="' + dataId + '"]'); } else { $container = null; }
//var $container = dataType == 'video' ? $('.video-showcase') : $('article[data-id="' + dataId + '"]');
if ( $container != null && $container.length > 0 ) { var $badged = $container.find('.wt-share-badge-' + dataShareType);
var $headerCount = $('.content-header').find('.wt-share-count'), $containerCount = $container.find('.wt-share-count'), value = parseInt($containerCount.html()) + 1;
$container.data('share', value); //$containerCount.html(value);
if ($headerCount.length > 0) { //$headerCount.html(value); }
if ( $badged.length > 0 && (dataShareType == 'facebook' || dataShareType == 'twitter')) { if ($badged.hasClass('is-visible')) { //$badged.html(data); } else { //$badged.addClass('is-visible').html(data); } } }
} }); } } }, '.wt-share-button') }); }


[ad_2]
Source link