According to analysts in the encrypted sector of Diar, the Bitcoin miners have registered a turnover of 5 billion dollars in the last 6 months, but for the first time it became unprofitable for the majority of miners when calculating the retail price of the # 39; electricity.
The structure of Bitcoin mining means that each successive block requires more computing power than the last, which means that Bitcoin mining becomes increasingly difficult and expensive while the rewards remain the same. Recent analyzes show that, despite the revenues deriving from mining activities are always at the highest levels, the cost of extracting Bitcoin has exceeded the advantages of the cost of electricity for most of the mining activities.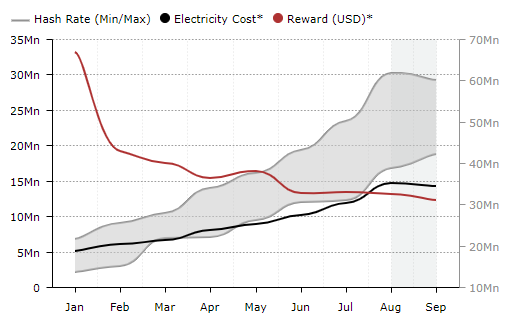 This is a big change for Bitcoin miners, essentially making it impossible for a miner to make money with the mining of Bitcoin under normal circumstances. An exception to the rule is China, where electricity is cheap and subsidized, but also for Chinese miners, the general costs of hiring equipment and infrastructure make it difficult to manage a profitable mining company .
A crucial actor who will decide the future of the mining sector is Bitmain, the producer of the vast majority of mining platforms. Miners will be reluctant to buy mining platforms from Bitmain if they can not promise profitability, but if Bitmain is able to produce affordable mining rigs with greater computing power and efficiency to make mining profitable again , miners will essentially be forced to upgrade existing systems if they hope to remain viable
This will certainly give an advantage not only to Bitcoin miners in China, but also to large companies with deep pockets that can invest enough to upgrade their infrastructure to keep up with a more limited profit margin.
It wants to extract Bitcoin WoW directly which will rather be the investment in hardware that you may never pay for itself. Because Bitmain and the large mining companies control the BTC mining.

– cryptocrafty (@ cryptocrafty1) October 10, 2018
Recently the criticism of New York University has imposed a critique according to which cryptography is "more centralized than North Korea" and it seems that the increase in hash power needed to build the blockchain BTC will go only further, especially considering that Bitmain seems being the only company in any position to produce ASIC hardware with profitable extraction efficiency in any kind of scale, giving them an effective monopoly on data mining hardware.
Other competitors have emerged, including MicroBT, which was started by a former Bitmain designer according to Bitmain but, these companies are fighting an "uphill battle" to gain control of the mining industry against the "Goliath" Bitmain.
Read more – Bitmain launches new min-minerals, ASIC extraction platforms, decentralization and the future of the crypto-market
Follow Chepicap now chirping, Telegram and Facebook!