[ad_1]
A few hours after the American media announced Joe Biden as the next president of the United States of America, Boris Johnson turned to Twitter congratulate the Democrat and Kamala Harris "on their historic achievement". However, a closer look found that the shared message suggests that the The British Prime Minister was preparing to congratulate Donald Trump.
Congratulations @JoeBiden is @KamalaHarris pic.twitter.com/xrpE99W4c4

– Boris Johnson (@BorisJohnson) November 7, 2020
The message is simple: two paragraphs in white letters written on a black background. However, as The Guardian reports, if you adjust the brightness and contrast of the image, you can see that there are "traces" of a message prepared for Donald Trump. Looking closely, above "Joe Biden" is "Trump on", further down, in the second paragraph, where it reads "look ahead [espero ansiosamente]"Estava" second term [segundo mandato]"And finally," shared priorities [prioridades partilhadas]"Lia-se" about the future of this [no futuro disto]".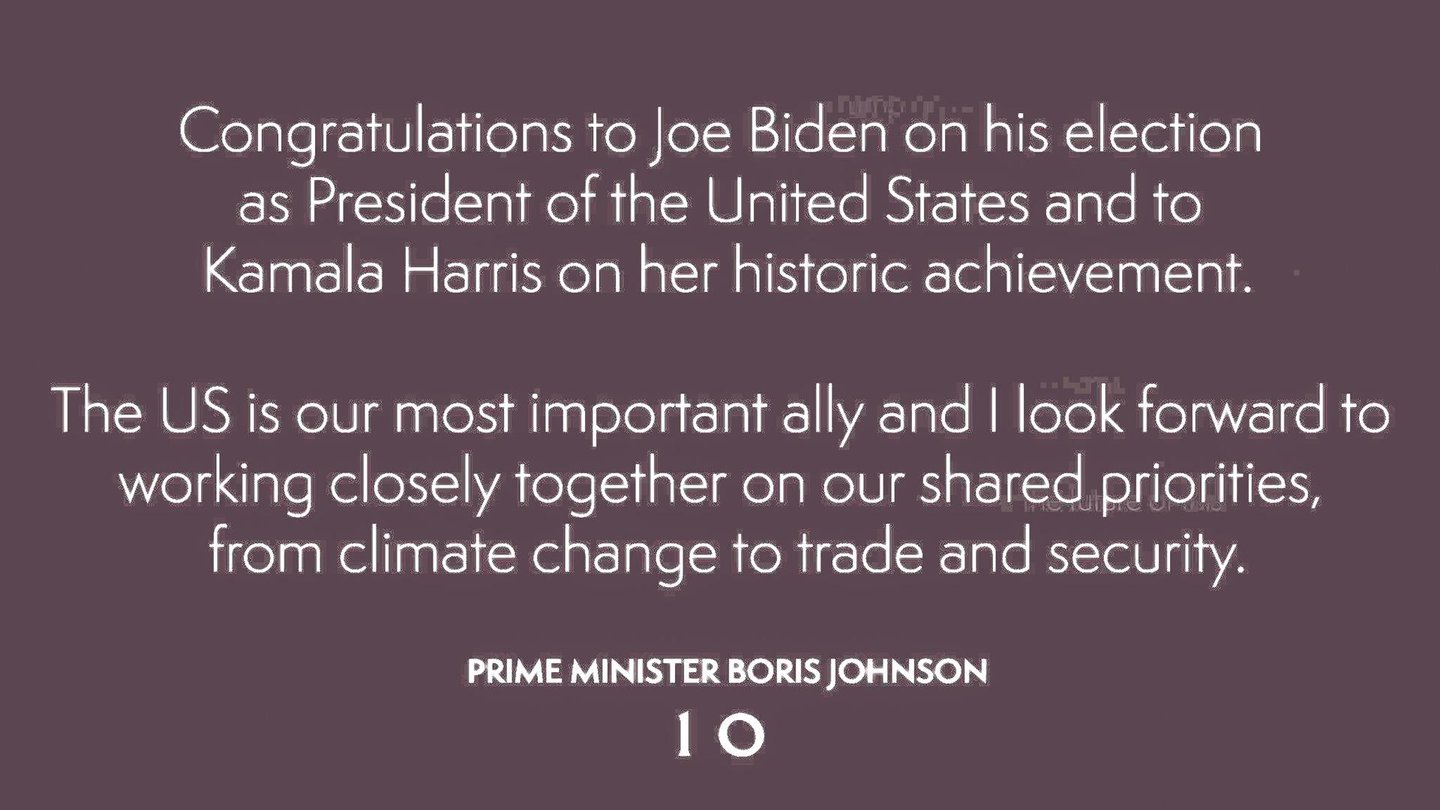 The British government has already responded to the situation, initially discovered by the GuidoFawkes blog, and attributed the "blame" to a technical error: "As one would expect, two statements were prepared in advance for the outcome of these hotly contested elections. A technical error means that parts of the alternate message have been incorporated in the lower part of the graph ".
Boris Johnson announced this Tuesday at Twitter who spoke to Joe Biden to "congratulate him on his election". Prime Minister he says he is "looking forward to strengthening the partnership" between the UK and the US and working with Biden on their common priorities "from fighting climate change to promoting democracy and recovering from the pandemic."
I just spoke @JoeBiden to congratulate him on his election. I look forward to strengthening the partnership between our countries and working with him on our shared priorities: from fighting climate change, promoting democracy and better reconstruction from the pandemic.

– Boris Johnson (@BorisJohnson) November 10, 2020
According to a spokesman for Downing Street, among the topics covered in the conversation was the "close and long-standing relationship" of the two countries, with leaders who have pledged to develop partnerships in the coming years, in areas such as trade and security. In the same conversation, Boris also took the opportunity to invite the President-elect to attend the 26th UN Climate Change Conference, COP26, to be held in Glasgow next year.


[ad_2]
Source link