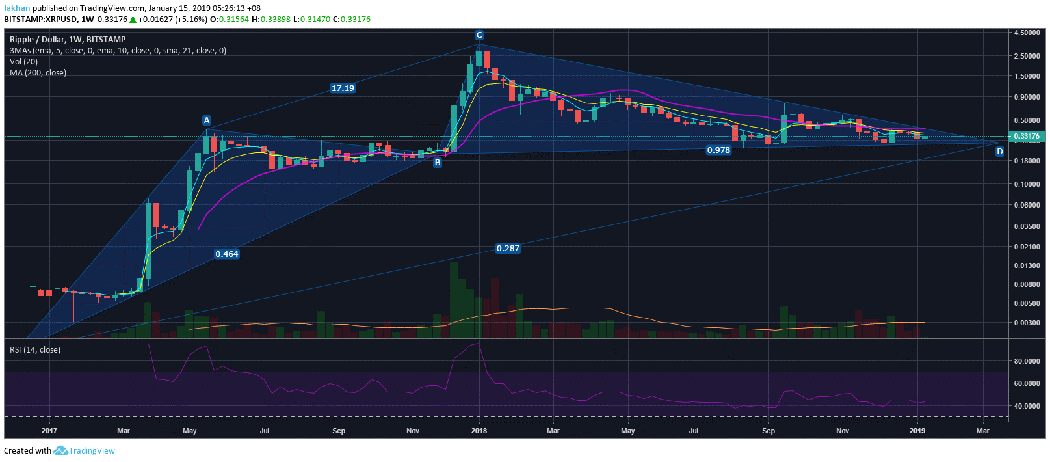 The CEO of Ripple (XRP), Brad Garlinghouse, has already said that the banks are ready to get on XRP. We are not far from the day when almost every bank in the world will be connected to Ripple (XRP) in one way or another. The number of new partners is growing every day that passes. Investors have seen many of these partnership announcements in recent months, but now they want to see the actual use of XRP and this time they will show it. In fact, Euro Exim Bank and many other partners are ready to pull the trigger as soon as the price of XRP stabilizes. The cryptocurrency market is still in bear trend and many investors are not convinced they have hit the bottom.
The average investor may have no problem seeing the XRP / USD float by 5% in one day, but for financial institutions this is a break-up deal. However, we have reason to believe that everything that is going to change and the adoption of Ripple (XRP) will increase in the coming months. After the bear market, we will have a long period of side movement during which banks and other financial institutions will have the ideal opportunity to experience XRP in real life. Many banks have tested XRP and found it very useful for their activities, but they still have to test it live. We believe that 2019 will be the year in which we will see all this happen.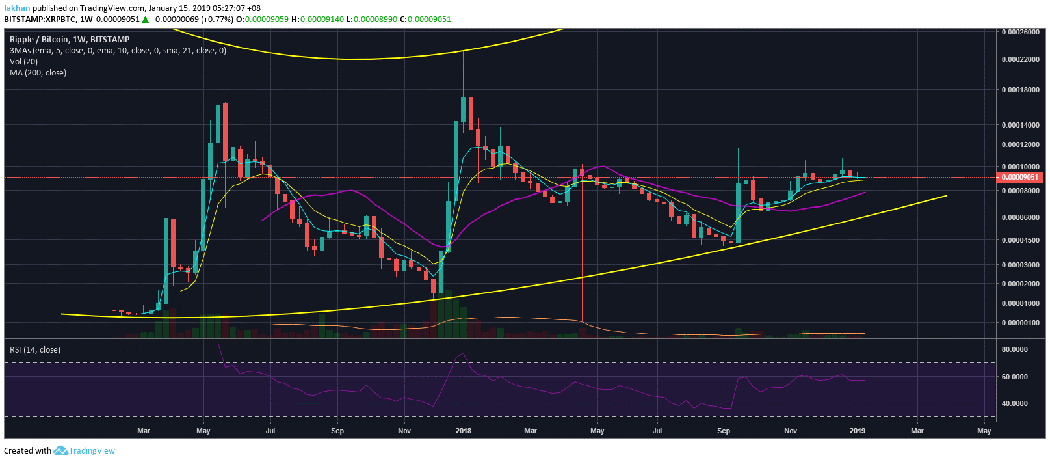 Chart for XRP / BTC (1W)
In recent months, we have seen many new services use XRP for faster payments, but most of them were miniature for small businesses with fewer customers. It is true that the success of these companies has convinced major financial institutions that it is a functioning product and that they could benefit greatly from replacing their accounts with XRP using Ripple's xRapid service. However, investors wanted to see large banks take XRP so that they could see adoption on a larger scale. This is finally happening as the major banks are aligning to use Ripple's xRapid service and not just the xCurrent service they have tested so far.

Ripple's xRapid service that requires banks and financial institutions to use XRP instead of our own accounts has a serious impact on being the next big news in the banking industry. The interesting part is that Ripple (XRP) has no competition in this space. It could be said that Stellar (XLM) is in the same space but does not offer the same product as Ripple (XRP). Indeed, Stellar (XLM) is more like Bitcoin (BTC) which focuses on peer to peer transactions. Ripple (XRP), on the other hand, focuses on improving what already exists, which allows banks to better facilitate their customers to reduce costs, increase transaction speed and simplify things. There are good chances that 2019 may be the year of the interweaving in which we will see big banks and financial institutions try to convince the public that they do not need Bitcoin (BTC) or any of the cryptocurrencies of over 2000.
Source link