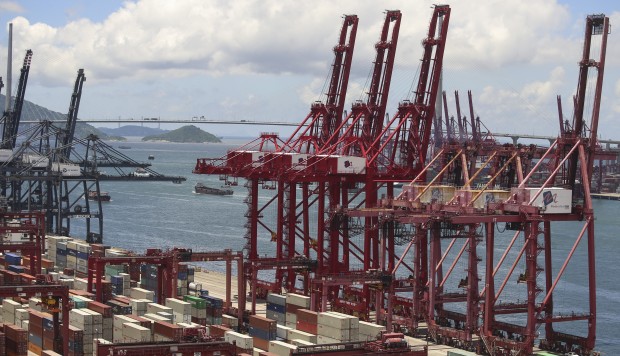 The second largest container port operator in Hong Kong has signed a blockchain solution to document the logistics data developed by the largest shipping line in the world, while a battle lies on the technology used to track the global transport, responsible for 90% of the global trade.
Modern Terminals Limited has become the sole participant of Hong Kong TradeLens, a blockchain platform developed by the Danish giant AP Moeller-Maersk Group with International Business Machines Corporation (IBM), scheduled for a roll-out at the end of this issue. ;year.
"That's the Holy Grail – a place to see everything [supply chain] at one point, "said the Managing Director of Modern Terminals, Peter Levesque, during an interview with South China Morning Post, adding that the platform would be the only system to which all shippers, shippers, imports and terminal operators can work.
The shipping industry is not the only one to use blockchain solutions – a well-known sequential distributed database to create bitcoins and other cryptocurrencies – to solve real-world problems. Financial services took the lion's share in the use of blockchain, which accounts for 82% of the use of technology last year, falling to 46% this year, according to a report of PwC.
TradeLens mainly works with shipping documentation, largely still based on paper and therefore inefficient and open to fraud. Container ships must travel with paper documents, where immediate verification can be a challenge. Blockchain will allow end-to-end verification, helping to speed up customs clearance.
"It does not look like much, but it is," said Levesque. Without blockchain, "you will continue to believe that what is there in the document is what is in the container," he said.
TradeLens is not the only solution on the market. Crimson Logic, a Singapore-based company that counts PSA International – operator of the state-owned container port – as a 45% shareholder, is also developing its global eTrade Services (GETS) blockchain to integrate supply chain and documentation.
"Our partners in China also work with us to help supply chain and logistics operators along the Southern Transport Corridor make cross-border trade easier, more predictable and more accessible," said Chong Kok Keong, CEO of GeTS , adding that the solution is aimed at developing commercial ties between China, Singapore and the Association of Southeast Asian Nations (ASEAN). "We want to be able to serve this segment of the commercial flow."
Modern terminals have chosen to join TradeLens because of the sprawling network operated by Maersk, which represents more than 19 percent of the global shipment after last year's acquisition in South Hamburg. The blockchain network adds two members each week, with 105 last count in October, including shipping companies, terminals and port operators and customs offices. According to estimates, a spokesman for Maersk said that about 1 million movements of ships are captured every day in the system, with almost 240 million customs exits, invoices and bills of lading on the system.
PSA, a shareholder of the GeTS rival system, also signed.
However, not everyone is fully on board. TradeLens is the Maersk reserve, and is therefore unusable for other shippers, said Rolf Habben, managing director of the rival German shipping line Hapag-Lloyd, during a conference in May.
"Technically, the solution could be a good platform but it will require a governance that makes it an industry platform and not just a platform for Maersk and IBM," said Jansen, adding that "every single project claims to offer a control industry platform. alone. "
To appease the industry, Maersk convened a meeting of technology executives from Maersk, CMA-CGM, Hapag-Lloyd, Mediterranean Shipping Company (MSC) and Ocean Network Express on November 15 to create an industry standard for shipping lines.
"We should not leave our history [as a port city]", Said Levesque of Modern Terminal's decision to embrace the blockchain." We have to go on offense and be part of a smart city makes sense. "