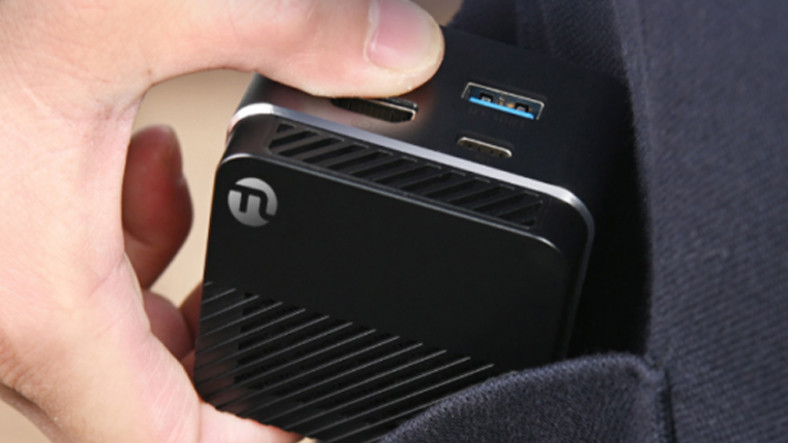 [ad_1]
Xiaomi, one of the most notable tech companies of recent times, is preparing to enter the mini PC sector with its new product called Ningmei Rubik's Cube Mini. The product, open to crowdfunding, reached its target in just one week.
Chinese tech giant Xiaomi, entered the mini computer industry, Ningmei Mini Rubik's Cube He started crowdfunding to bring his computer to market. The crowdfunding launched by the Chinese company has already exceeded the target of one week before the deadline.
62 x 62 x 42 mm Only the device, the dimensions of which are almost the same size as a Rubik's cube 145 grams This value makes it even lighter than a standard smartphone. Your strength Intel Celeron J4125 The computer, which is powered by the processor, also has a small fan to prevent overheating.
What does Xiaomi's mini pocket computer offer?
As mentioned earlier its power Intel Celeron J4125 mini computer with processor, memory side 6/8 GB of LPDDR4 RAM using and only one SSD M.2 houses the hard drive slot.
If we go to the connection side, one USB-C port, two USB 3.0 I bring one micro SD card slot e 3.5 mm'lik headphone jack is included. HDMI with junction 4K The device which also supports image output Wifi is Bluetooth There is also connection support.
RELATED NEWS
Panasonic develops a tool to retrieve wireless headphones from rails
Xiaomi's mini computer is currently available exclusively in China. Basic version 999 yuandan (1,288 TL) The variant of the mini computer that takes place on the shelves with 8 GB of RAM and 256 GB of storage. $ 200 ($ 1,705) It awaits its buyers with a slightly higher price. Also, it should be noted that for Marvel fans, there is another version of the computer designed with inspiration from Iron Man.
Source:
https://www.techradar.com/news/xiaomis-surprising-desktop-pc-is-as-small-as-a-mouse
if(!isMobile) { $(function(){
//facebook window.fbAsyncInit = function() { FB.init({ appId : '1037724072951294', xfbml : true, version : 'v2.5' }); };
(function(d, s, id){ var js, fjs = d.getElementsByTagName(s)[0]; if (d.getElementById(id)) {return;} js = d.createElement(s); js.id = id; js.src = "https://connect.facebook.net/tr_TR/sdk.js"; fjs.parentNode.insertBefore(js, fjs); }(document, 'script', 'facebook-jssdk'));
$('body').on({ click: function() { // facebook save button ajax FB.XFBML.parse(); } }, '.facebook-save');
// share scroll if ($('.content-sticky').length > 0) { if ($(window).width() >= 768) { $(window).on('scroll', function () { var scrollTop = $(this).scrollTop(); $('article').each(function () { if (scrollTop >= ($(this).find('.content-body').offset().top - 76)) { $(this).find('.content-sticky').addClass('sticky'); if (scrollTop >= ($(this).find('.content-body').offset().top + $(this).find('.content-body').height() - ($(this).find('.content-sticky').height() + 92))) { $(this).find('.content-sticky').removeClass('sticky'); $(this).find('.content-sticky').css({'bottom': '0px', 'top': 'auto'}); } else { $(this).find('.content-sticky').addClass('sticky').css({ 'bottom': 'initial', 'top': '76px' }); } } else { $(this).find('.content-sticky').removeClass('sticky').css({'bottom': 'auto', 'top': '0'}); } }); }); } }
// share click $('body').on({ click: function (){ var $this = $(this), dataShareType = $this.attr('data-share-type'), dataType = $this.attr('data-type'), dataId = $this.attr('data-id'), dataPostUrl = $this.attr('data-post-url'), dataTitle = $this.attr('data-title'), dataSef = $this.attr('data-sef');
switch(dataShareType) { case 'facebook': FB.ui({ method: 'share', href: dataSef, }, function(response){ if (response && !response.error_message) { updateHit(); } });
break;
case 'twitter': shareWindow('https://twitter.com/intent/tweet?via=webtekno&text="+encodeURIComponent(dataTitle) + " %E2%96%B6 ' + encodeURIComponent(dataSef)); updateHit(); break;
case 'gplus': shareWindow('https://plus.google.com/share?url=" + encodeURIComponent(dataSef)); updateHit(); break;
case "mail': window.location.href="https://news.google.com/__i/rss/rd/articles/mailto:?subject=" + encodeURIComponent(dataTitle) +'&body='+ encodeURIComponent(dataSef); //updateHit(); break;
case 'whatsapp': window.location.href="whatsapp://send?text=" + encodeURIComponent(dataTitle) +' %E2%96%B6 '+ encodeURIComponent(dataSef); updateHit(); break; }
function shareWindow (url) { window.open(url, "_blank", "toolbar=yes, scrollbars=yes, resizable=yes, top=500, left=500, width=400, height=400"); }
function updateHit () { $.ajax({ type: "POST", url: dataPostUrl, data: {contentId: dataId, contentType: dataType, shareType: dataShareType}, success: function(data) {
if ($('.video-showcase').length > 0) { var $container = $('.video-showcase'); } else if ($('article[data-id="' + dataId + '"]').length > 0) { var $container = $('article[data-id="' + dataId + '"]'); } else if ($('.wt-share-item[data-id="' + dataId + '"]').length > 0) { var $container = $('.wt-share-item[data-id="' + dataId + '"]'); } else { $container = null; }
//var $container = dataType == 'video' ? $('.video-showcase') : $('article[data-id="' + dataId + '"]');
if ( $container != null && $container.length > 0 ) { var $badged = $container.find('.wt-share-badge-' + dataShareType);
var $headerCount = $('.content-header').find('.wt-share-count'), $containerCount = $container.find('.wt-share-count'), value = parseInt($containerCount.html()) + 1;
$container.data('share', value); //$containerCount.html(value);
if ($headerCount.length > 0) { //$headerCount.html(value); }
if ( $badged.length > 0 && (dataShareType == 'facebook' || dataShareType == 'twitter')) { if ($badged.hasClass('is-visible')) { //$badged.html(data); } else { //$badged.addClass('is-visible').html(data); } } }
} }); } } }, '.wt-share-button') }); }


[ad_2]
Source link