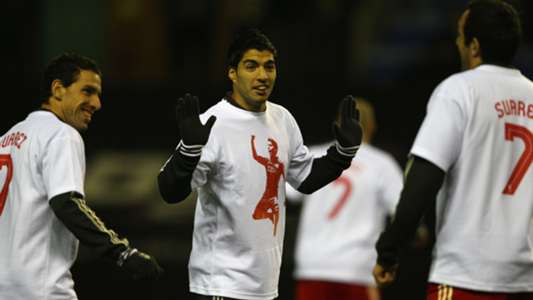 The current Reds captain admits that Anfield made a serious error of judgment when they chose to support the controversial striker
Jordan Henderson admits Liverpool were "wrong from top to bottom" when they made public demonstrations of support for Luis Suarez during the racist storm that raged around the Uruguayan frontman in 2011.
Suarez met Manchester United defender Patrice Evra during a match between two old opponents at Anfield.
Allegations of racist abuse directed at the Red Devils full-back resulted in Suarez being disqualified with an eight match ban and a £ 40,000 fine.
The Football Association delivered that punishment at the end of a two-month investigation the day before Liverpool traveled to Wigan. The Reds took to the pitch for warm-up in that match wearing shirts that displayed an image of support for their teammate, with those actions widely condemned.
Goal 50 revealed: the best 50 players in the world
Henderson, who is now captain of the reigning Premier League champions, admits the Merseyside side have made a grave error of judgment.
The England international said so Anton Ferdinand's documentary "Football, Racism and Me" for the BBC: "Looking back now, I'm not sure if the club or everyone has dealt with it in the best way.
"From the players' point of view, our mentality was about Luis and how to protect him, but we really didn't really think about Patrice.
"I think that's where we went wrong from top to bottom. If people want to get me noticed, I will take full responsibility as a player. People will say, "It's a little late," but I guess it's better late than never. "
Evra revealed in early 2020 that she had received an apology from Suarez and Liverpool in the years since an unfortunate incident occurred.
He said: "Him [Jamie Carragher] he said they made a big mistake that day and apologized. It really moved me and I will now respect Liverpool as a football team because, when it happened, I was really disappointed with the club.
"I received an email from the Liverpool president apologizing for what happened nine years ago. He said I could come to Liverpool if I needed anything. It really moved me because it's better late than never, but I was surprised that Liverpool supported that kind of attitude. "