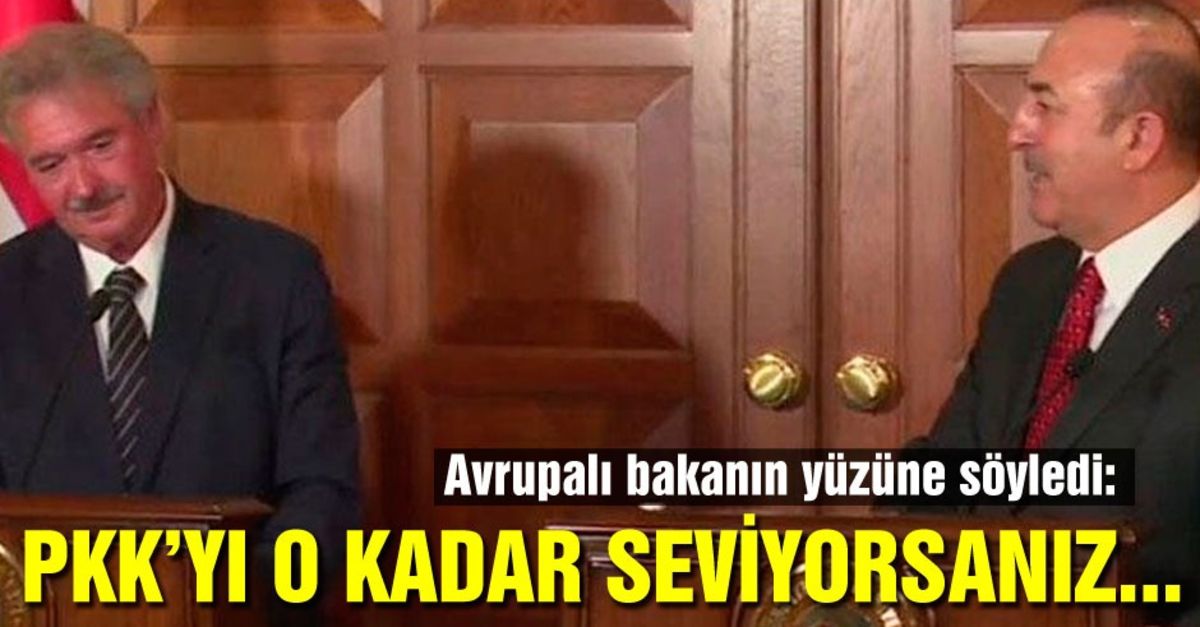 Foreign Minister Mevlüt Çavuşoğlu and his Luxembourg counterpart are holding a joint press conference.
Foreign Minister Mevlüt Çavuşoğlu said;
In a further blow to Turkey itself and have taken steps to protect our country against the terrorist threat. And we expect the support of all those who support democracy. They say they have not given enough support, including EU countries. The YPG of the PKK and the black propaganda of the FETO are still misinterpreted. Today we receive an appointment from the Ministry of Justice, we said that you can learn real information with numbers.
Today, France, Belgium and countries affected by terrorism, the law changes, like the measures of HALAL against the other, including Luxembourg, "solidarity" under the name of "sound" and support; the countries that Turkey can not accept hesitating, even while trying to give lessons in Turkey as a country and a country. We expect your sincerity here. We would like to say that we have rejected them.
The struggles in Syria are very important for Europe. When terrorists are not distinguished in the Kurds, they are entering this wrong. This terrorist organization is now trying to divide almost a third of the Syrian territory.
ANSWER TO TRUMP
Mr. Trump called the president twice and approved his decision. Strategic partners do not speak via Twitter. C & # 39; is a terrorist organization that wants to divide Syria, our goal is this terrorist organization … We are not enemies of the Kurds, we have been the most defensive in history, we will continue to be. We can not get hold of these terrorist organizations. Europe, the United States know this fact much better than us. We understand the situation of Trump, there is a lot of pressure on him. We know that in the last tweet there is an internal policy, but strategic partners do not speak through sosya media. We said we would not leave any threat. On the one hand, the economic difficulties, the threat of terrorism on the one hand, if they ask this nation, we do everything necessary to destroy the threat it faces. We do not find the language that Trump uses. First of all, the United States and everyone should know what we deserve. The United States and everyone should adapt their style and behavior.
"(Safe zone 30 km at the border) after the stability of Turkey came up with this idea, we are not against it.Trump over there is a serious pressure.Family unit (from Syria) presses for withdrawal. said that we were not afraid of any threats.economic can not be achieved with a threat "
If Idlib has become a nest of terrorism, it is the regime and the supporting countries that are responsible for it. Sent terrorists Dara & dan Homs and supporters from Homs. As for the last line of Idlib, the goal was to attack Idlib. There are several groups in the field, it's not easy to control them all. But in general terms, the Idlib memorandum has been implemented successfully. It is not correct that the speech of HTŞ or El Nusra has captured 50% of the Idlib region. Radical groups attack the uncomfortable and moderate opposition of the measures taken. We have to talk about what to do with these terrorist organizations. It's a serious situation, but Turkey is doing its part constructively here because this is very important for a political solution in Syria.
First of all, why not make a phone call between Trump and Erdogan? I will consider them with Pompeo in the next days. When we had a good dialogue, there was an explanation on Twitter and I explained it.
There are three high-level work groups with us. One concerns Syria, the second concerns consular issues, and another is a working group on the PKK. The American side wanted to hold a meeting on February 5th. Our friends will also go. On 6 February, there is a coalition meeting against DAESH. There are 65 countries here, but Turkey is the only country that fights against Deas. He is meeting his friends in the mall. In Iraq, we have neutralized almost a thousand people. Nobody was deaş & # 39; l a dogfight outside of Turkey.
THE EXPLANATION OF TRUMP
US President Donald Trump said in a statement through social media accounts to begin the process of withdrawing from Syria, stressing that, "if you hit the Kurds in Turkey, we ruined it economically," he said.
Trump said, "We are striking the elements of ISIS, which US troops have begun to withdraw from Syria, and if they have returned to the area and recovered, we will hit again from our neighboring bases." Russia, Iran and Syria were the Major beneficiaries of US long-term policy to destroy ISIS in Syria It's time to bring our soldiers home, stop endless battles, "he said.
POMPEO PROVIDES ANY ANSWER
US Secretary of State Mike Pompeo said in Saudi Arabia, when the press was questioned by Donald Trump, "You should ask him.
Pompey: Trump management has shown extremely consistent stance on Turkey's Kurdish should he pursue.
When asked about the security zone for Syrian Kurds, Pompeo said: "We are discussing how to ensure border security".
IMPORTANT DAY CURTAINS
Source link