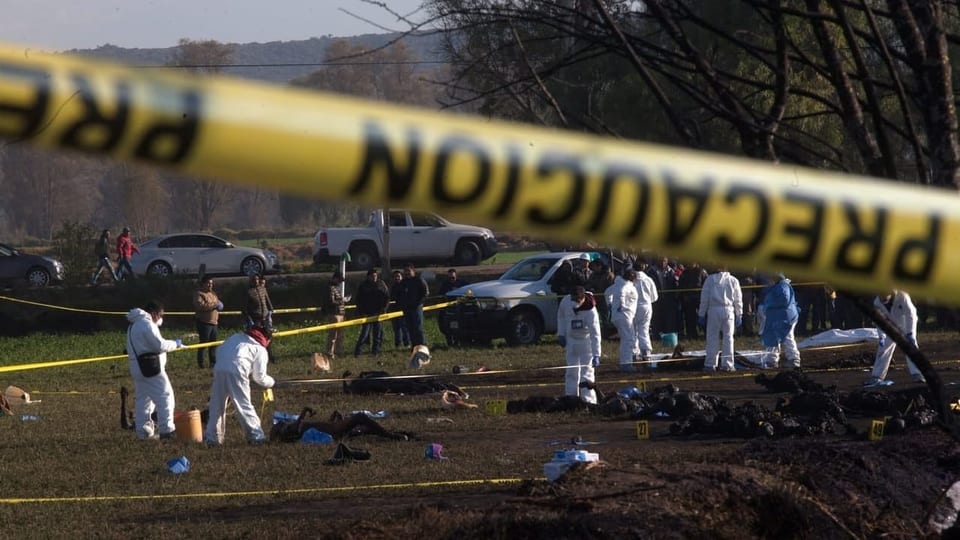 According to recent data, the explosion of a petrol line in Mexico on Saturday caused the death of 73 people – at least 74 others were injured.
At the time of the explosion, according to local media, there were hundreds of people on the gasoline pipeline who were trying to siphon the fuel from a drawn pipe with pails and cans.
The loss is attributed to an attempt to intercept illegal.
The death toll from the explosion of a gas pipeline in Mexico rose to 73. Seventy-four injured were treated in several hospitals, the governor of Hidalgo Omar Fayad said on Twitter on Twitter.
24 people are in the Hidalgo clinics, another 50 in the other states and in the capital, Mexico City. Currently, it's about stabilizing the health of the wounded, so Fayad.
Difficult identification
54 of the dead were so badly burned that the bodies identity must be determined by DNA testing, said Hidalgo State Attorney General. Research dogs were able to find several bodies intact at the crash site, nine of which were identified quickly, he explained.
Preliminary investigations indicate that the explosion may have been caused by the friction of the clothes of the people who had gathered around the leak. The gas leaked gas and gas, Mexico's attorney general Alejandro Gertz Manero said. Friction of synthetic materials may cause electrical reactions and statically loaded clothing could ignite the gas.
Attempt to intercept illegal
Saturday's videos showed how the explosion caused panic on the scene of the accident. People ran screaming away from the fuel line. The flames pushed over the pipeline. The fire spread to the scene of the accident. Forces cut the area in the state of Hidalgo.
On Friday afternoon, according to the TV channel "Milenio TV", a loss was reported on the line. The state oil company Pemex said it was an attempted illegal interception on the gas pipeline near Tlahuelilpan.
Gas theft is a big problem in Mexico. According to Pemex, every 30 minutes of the last year an attempt was made to illegally knock one of the gas pipelines. The governor of Hidalgo called after the accident, the population not to participate in gasoline-Klau. It was a threat to life, he warned on Twitter. "It happened today and can not be repeated."
The government has fought fuel theft since the end of December and has already closed some lines. Fuel is now transported in monitored tank trucks. At service stations in the Latin American country, this has led to long queues in recent weeks.