Perhaps the most well-known and highly-regarded "privacy coin", Monero has carved out a niche in the crypto market that has many excited. It exemplifies what crypto was originally designed for: freedom from censorship or outside control, with the ability to be transacted instantly and across borders.
Monero tokens, by purchasing them on the Binance exchange.
What is Monero?
Monero (known by the ticker symbol XMR), is a coin made for transactional use, expressly for private transactions. For coins such as Bitcoin, everything can be tracked on a public ledger, from transactions to wallet addresses. While this transparency is welcome in some circles, it's a serious concern for others.
Monero addresses the privacy concerns in crypto with several impressive features. This includes obfuscation of transactions, and "stealth addresses", which hide the true addresses of both sides of a transaction. Monero without the worry of being traced.
On top of their privacy features, Monero recently introduced a new update, which drastically reduced the fees incurred in XMR transactions. This means, privacy aside, Monero offers a cheaper and more efficient way for anyone to transact with crypto.
Now let's see how you can buy Monero coins.
Step 1: Register for an account on Binance
As with many coins right now, buying Monero with credit or debit card, or through bank transfer, can be difficult. XMR with Bitcoin or Ethereum.
The first step, if you have an account with Binance. The process is generally quick and easy, and is open to users almost everywhere in the world.
Step 2: Verify your account
Before you can start trading, you'll need to submit several verification documents to the Binance team. Additionally, make sure to set up 2-Factor Authentication to protect your account.
Step 3: Send BTC or ETH to your Binance account
Once you've completed the verification steps, you'll need BTC or ETH in your Binance wallet.
If you do not hold either of these coins, you can buy coins or debit cards like a Coinmama or Changelly, or a fiat exchange like Coinbase.
To send coins to your Binance wallet, go to the Binance platform and select "Funds", then "Deposits". Choose the coin you wish to send from the dropdown menu.
You'll be shown at wallet address to send coins to. Make sure you send the BTC to the BTC wallet, or ETH to the ETH wallet. Here you can be lost.
Step 4: Wait for confirmation
Wait for Binance to confirm your deposit. Transactions are often cleared very quickly, but depending on the network load, may take several hours.
Step 5: Find and select the BTC or ETH pair
When your deposit has been completed, you can move to the exchange section of the site. Do so by selecting "Exchange", then "Basic".
On the right hand side. Select the coin you are trading with, and search "XMR". Select the pair that comes up (i.e. XMR / BTC or XMR / ETH).
Optional: Use Binance's advanced tools to buy at the right time
Binance offers data such as real-time graphs and order history, to help you track a coin's performance and buy at the best time.
Set buy or sell limits. This means you can select a price (in BTC or ETH) at which you want to buy. Once the price hits that point, the exchange will automatically make your trade.
Step 6: Choose the amount of XMR to buy
Choose the price you want to buy XMR, or select "Market" to buy the current price (this is the end for beginner / novice traders). Then enter the amount of XMR to buy. You can choose a specific amount of XMR, or 25%, 50%, 75% or 100% of the BTC / ETH coins in your Binance wallet.
Step 7: Buy Monero!
Hit the green "Buy XMR" button, and once Binance confirms your transaction, you're done!
Step 8: Move your coins to a secure Monero wallet
The best practice in crypto is to keep your coins off an exchange when you're not trading, in a secure wallet that you control. This way, you have total control over the security of your tokens, and you're not trusting in the exchange's security procedures.
To do so, you'll need a wallet that supports Monero. For the highest level of security, a hardware wallet such as the Trezor Model T or Ledger Nano S is recommended. Alternatives from the XMR dev community includes the GUI Wallet for Desktop, or the MyMonero online wallet.
Once you have an XMR wallet set up and ready, you can withdraw your coins from the Binance exchange. And select "Funds" then "Withdrawals".
Select XMR from the dropdown menu.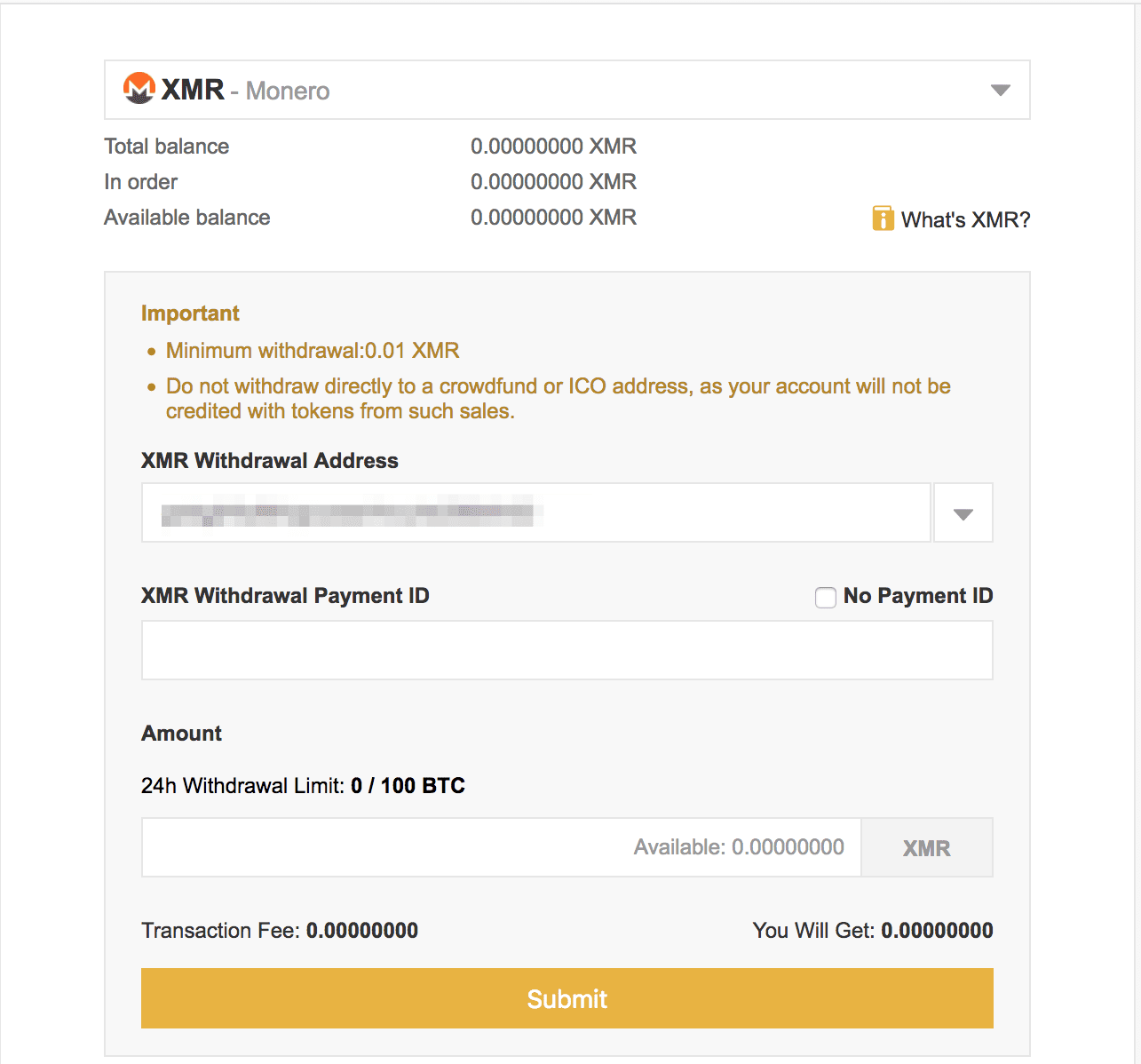 Monero wallet, and the amount of Monero you wish to withdraw. Double check the address is correct, then hit "Submit". Check for confirmation that your transaction has been completed successfully.
… and that's it! Monero (XMR) on Binance.
Learn More
Monero is one of the most exciting blockchain and cryptocurrency projects out there. As we wrote, Monero XMR is the best privacy coin on the market right now. You can read about Monero's bulletproof update and our Monero XMR Price Prediction article as well. Last, learn how to store XMR on Ledger.