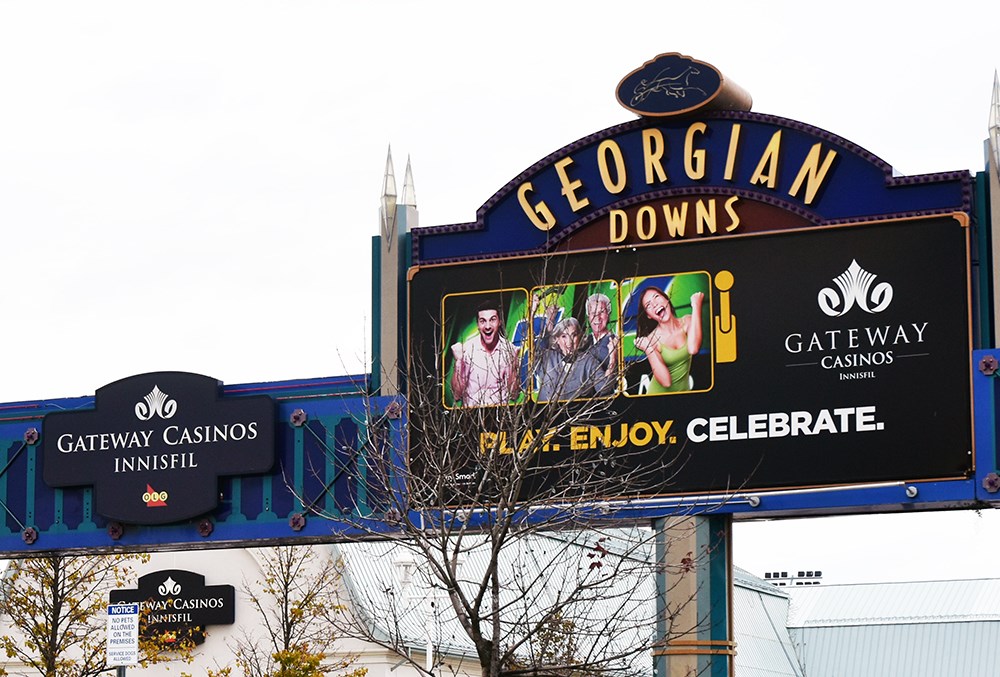 [ad_1]
"I don't think the sale will have an impact, but the ongoing pandemic and the facility's limited capacity continue to impact the revenue the city receives," says the mayor.
The proposed purchase of the Great Canadian Gaming Corporation – which owns the Georgian Downs facility on Highway 400 south of Barrie – by an American corporation has led to some confusion over the state of the casino's operations in Innisfil.
However, Gateway Casino Innisfil, which is part of a separate company leasing space from Great Canadian Gaming within the Innisfil facility, is not expected to be affected by the pending deal, which could be ratified in December.
"We're not interested," Gateway spokesman Robert Mitchell said.
Gateway Casinos is an independent company operating in Ontario, Alberta and British Columbia. It owns, among other properties, Casino Rama.
With Apollo Global Management's proposed takeover of the Great Canadian Gaming Corporation for $ 3.3 billion (Cdn.), Ontario Lottery and Gaming (OLG) officials see the move as positive.
"The proposed acquisition is expected to support significant investment and profitable growth of the gaming operations at Great Canadian casinos in Ontario," said OLG President and CEO Duncan Hannay. "This benefits OLG, the province and the communities that host 11 Great Canadian-operated casinos in Ontario."
Apollo Global Management's purchase of Great Canadian Gaming has yet to be ratified by shareholders.
Under normal circumstances, prior to the pandemic, the city of Innisfil received quarterly payments of between $ 1 million and $ 2 million from OLG for hosting slot machines in Georgian Downs.
In fiscal 2019-20, the city has received more than $ 6.2 million and nearly $ 90 million in non-tax gambling revenue since the slots were initially installed there.
"I don't think the sale will have an impact, but the ongoing pandemic and the facility's limited capacity continue to impact the revenue the city receives from OLG," Innisfil Mayor Lynn Dollin said.
At the end of April, OLG's quarterly payment to the city was $ 972,983.
The province's commercial interests in casinos continue to be managed by OLG and protected by contractual arrangements.
"These contracts remain in effect and are not affected by the proposed acquisition," OLG said in a statement.
Meanwhile, in 2018, Gateway Casinos and Entertainment signed a 23-year agreement with OLG to take over leases and day-to-day operations at various facilities, including Georgian Downs and Casino Rama.
After being closed due to COVID-19, Gateway reopened its doors during Operation Innisfil on October 10, as part of the province's Phase 3 recovery. The company has decided not to reopen the Casino Rama.
"The response from our customers has been uniformly positive," Mitchell said.
However, Mitchell says it remains to be seen how the Innisfil casino operation will recover from the pandemic.
"Assessing the success of the reopening is problematic, with a maximum of 50 people per visit," he said.
Gateway Casino Innisfil's 26 table games remain closed, although the casino has introduced electronic table games for fans of baccarat, roulette and poker. The spacious Georgian Downs casino facility has more than 1,000 slot machines and, under normal conditions, is licensed for 3,342 people.
OLG has advocated for the safe reopening of casinos, where the rules allow.
"To reopen or remain open, casino service providers must comply with current provincial and municipal health guidelines and continue to work with the Ontario Alcohol and Gaming Commission (AGCO)," as do local public health, OLG spokesman Tony Bitonti said.
Bitonti acknowledged that, as a result of the current limit of 50 people in attendance, "the revenues generated at the moment are significantly lower than pre-COVID levels".
As of October 15, Gateway Casino Innisfil has decided to remain open 24/7, with the mask and COVID-19 protocols in place, including frequent cleaning and hygiene, and measures to maintain a physical distance of two. meters.
These steps include floor decals and candlesticks and keeping some slot machines "out of the game", although all machines are lit to help create a more typical casino atmosphere and experience for patrons – currently, limited to My Club Reward members, who make a reservation to play.
And despite the difficult circumstances, Mitchell said that "people are having fun."
"They are commenting on the cleanliness of our location," Mitchell said, and complimenting the staff on their efforts to create a safe environment. "People are very, very respectful. We have not had any problems in terms of compliance with the protocols by our customers.
"It's nice to see this level of respect and cooperation," he added.


[ad_2]
Source link