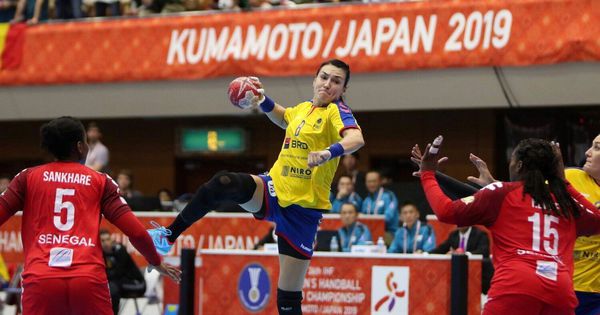 The European Women's Handball Championship will take place from 3 to 20 December;
The Romanian national team was assigned to group D, along with Germany, Norway and Poland.
Romania meets on the first day of the European Championship in Denmark, the German national team, from 19:00, at Holding. The other match of the group is played between Norway and Poland, from 21:30, in the same city. Also on the first day of the European Championship the matches of group B are played: Russia – Spain (19:15) and Sweden – Czech Republic (23:00). If Romania matches can be seen on all 3 stations, other matches can only be seen on Digi Sport channels.
Romania's program for the European Handball Championships
December 3, 7pm Romania-Germany
December 5th, 5pm Poland, Romania
7 December, 9.30 pm Romania-Norway
Norway, the bookmaker's favorite
Norway starts as the favorite to win the trophy. The Nordics have won the largest number of European championships in history, 7, while the last edition, held in 2018, was won by France. For Romania, the best performance at the European Championships is in 3rd place in 2010, in the finals of the tournament hosted by Denmark and Norway.
Sportsbook Unibet sees Norway as the trophy favorite this year, giving them a 2.30 chance to win the trophy. Nordics have a slightly higher elevation than Betano, of 3.00, while France is seen as the second favorite, with a share of 5.00. The podium ends with Denmark, 12.00. Among the odds offered to Norway by the two bookmakers is the one proposed by Efortuna, 2.50. In 2nd place at the top of the favorites is Russia (4.50), while France closes the podium (5.00).
35.00is Romania's share of winning the EC 2020, in Efortuna
If we look closely at Romania's group, the favorite to win is Denmark, Betano offering an odd of 1.07, while Romania has a huge odd – 9.00.
Program of the European Women's Handball Championship
3-8 December: Group I matches.
10-15 December: Group II matches
December 18: semifinal
December 20: final + match for 3rd place
The team of Romania for the European handball championship
| | | |
| --- | --- | --- |
| Denisa Dedu | Bring | CSM Bucharest |
| Iulia Dumanska | Bring | Podravka Koprivnica |
| Ana Maria Măzăreanu | Bring | Gloria Bistrita |
| Alexandra Dindiligan | Far left | HC Zalău |
| Ana Maria Iuganu | Far left | Gloria Buzau |
| Nicoleta Dincă | Far left | Gloria Bistrita |
| Cristina Neagu | Inter have left | CSM Bucharest |
| Andreea Polocoșer | Inter have left | Minaur Baia Mare |
| Eliza Buceschi | Center | Rapid Bucharest |
| Ana Maria Țicu | Center | SCM Craiova |
| Cristina Laslo | Center | Minaur Baia Mare |
| Andreea Popa | Center | Minaur Baia Mare |
| Laura Popa | Inter right | Rapid Bucharest |
| Ana Maria Savu | Inter right | SCM Craiova |
| Sonia Seraficeanu | Extreme right | Minaur Baia Mare |
| Lorraine Ostase | Pin | CSM Slatina |
| Alexandra Subțirică | Pin | Gloria Buzau |
Read more news about the European Women's Handball Championship:
Nicusor Dan announced the first two people he fired. Both were brought by Gabriela Firea
Freedom