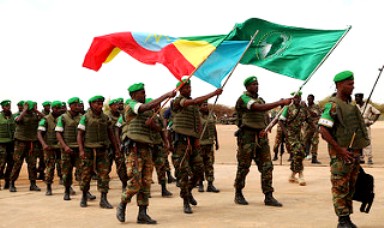 Ethiopian troops in Somalia along with Somali government forces killed 60 Al Shabaab rebels in the Kismayo area and destroyed four Land Cruiser pickups equipped with heavy explosives, the Defense Ministry said.

The attack was carried out on Saturday after Al Shabaab tried to stop the Ethiopian forces' movement in Somalia, according to the ETV state broadcaster last night. Ethiopian troops operated in the Africa Union Mission in Somalia (AMISOM).
During his daytime newscast ETV reported that the Ethiopian troops in Somalia who were patrolling the area were attacked and managed to reach their base. The news also indicated that along with the federal government of Somali troops, Ethiopian forces in Somalia are preparing to take action against Al Shabaab.
In a related development, the United States said today that it killed 52 Al Shabaab extremists with an air strike in response to an attack on Somali forces.
Al Shabaab recently conducted terrorist attacks in different parts of Somalia and neighboring Kenya. In the first week of this month, seven mortar rounds were fired by Al Shabaab who targeted AMISOM Basecamp in Mogadishu but all failed to hit AMISOM's target.
Last December, the terrorist group also claimed responsibility for the attack in Somalia. Last week AL Shabaab also attacked a hotel in Kenya killing many people.
As part of AMISOM, Ethiopia deployed hundreds of troops to Kismayo in January 2016 to protect the area from the terrorist attack along with other troops from Kenya and Burundi.
Reports also show that in recent months the United States has also targeted Al Shabaab using drone attacks. Ethiopian forces officially joined the African Union's peacekeeping mission in Somalia in January 2014. Ethiopian troops in Somalia have played an important role in leading Al Shabaab from different fortresses.
Troops entered Somalia following the approval of the UN Security Council, which authorized an additional force of more than 4,000 soldiers to bring AMISOM peacekeepers to Somalia to more than 22,126.
Somalia has been plagued by a constant war for over 20 years – its last functioning national government was overthrown in 1991.
Source link