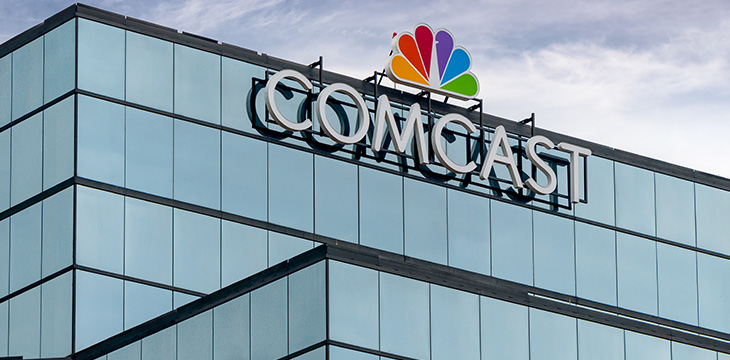 The media giant Comcast Corporation, through its Comcast Cable Advertising division, will publish Block-to-Peer, the peer-to-peer platform, which allows companies to better control data shared with others.
The service will initially be used "at the beginning of 2019", according to a press release, with NBCUniversal testing its capabilities.
Comcast sees data exchange increasingly efficient and secure, with the cutting of a centralized third party that has traditionally been necessary to preserve the anonymity of consumer preferences data. With Blockgraph, two parties could exchange information directly with each other while maintaining user privacy.
The company also stated that further insights could be derived from matching certain attributes with encrypted identifiers.
Blockgraph General Manager Jason Manningham said, "The TV community needs to make sure that it can compete with the data capabilities of digital companies, and we know that providing a safe way to protect data by benefiting from collective insights is the way forward."
Comcast is already under discussion with other companies for subsequent implementations of the service. One of these companies is Viacom, which actually participated in the initial development of Blockgraph.
Viacom Executive Vice President Kern Schireson said: "Viacom has long been committed to promoting television advertising and collaboration in the industry to deliver better ads to customers and improve consumer experience," adding that the partnership with Comcast "will facilitate the valuable exchange of data, a catalyst necessary to resize our collective capabilities." "
Spectrum, through its Spectrum Reach advertising sales division, has also been involved in the project. Its president, David Kline, said: "It is essential that the use of data privileges the privacy of consumers' personal information … We support this initiative by believing that it can help set the standard for a secure sharing of information in the years to come ".
Paola Colombo of Pubitalia, the advertising unit of Mediaset partner from Italy, said that Blockgraph "will allow us to compete more effectively as a means, while at the same time offering more value to our advertising clients".
Marcien Jenckes, president of Comcast Cable Advertising, said Blockgraph was designed to be an industry-wide initiative. "We believe that when advanced data capabilities are combined with the benefits of awareness and involvement of TV and premium video, the results will be hard to beat," he said.
Previously, Comcast had joined a consortium with the Walt Disney Company to develop the Blockchain Insights advertiser platform.
Note: Tokens on the Bitcoin Core (segwit) chain are called BTC coins. Bitcoin Satoshi Vision (BSV) is today the only implementation of Bitcoin following the original whitepaper of Satoshi Nakamoto for Peer to Peer Electronic Cash. Bitcoin BSV is the only major public blockchain that maintains the original Bitcoin vision as fast and frictionless electronic money.
Source link