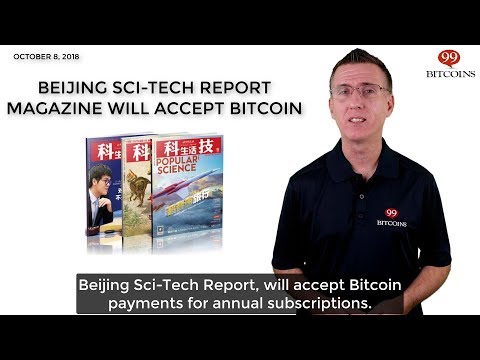 Here's what happened this week in Bitcoin in 99 seconds.
China's longest-running technology magazine, Beijing Sci-Tech Report, will accept Bitcoin payments for annual subscriptions. From 2019, readers will be able to pay 0.01 BTC to receive the publication.
Some research into the encrypted sector of Diar has indicated a bullish future. According to their report, the inflow of risk capital into encrypted companies has already increased by 280% compared to last year. To date, around $ 4 billion has been raised, with over a quarter of a billion for "stablecoin" projects.
The main US trade, Gemini, announced that – in addition to variable capital deposits – the encrypted deposits held in their exchange are now insured against loss. Merchants and others who store coins in return may find the Gemini security extra welcome.
Bitcoin has exceeded the 50% milestone for transactions using SegWit. It takes just over a year for the adoption of SegWit to reach this point. You can usually say that your Bitcoin address is enabled for SegWit if it starts with a "3". The use of SegWit is recommended as it reduces your commissions.
The French startup, Acinq, raised $ 1.7 million to continue working on the Lightning network. Acinq is the creator of the Éclair portfolio and its Lightning Network implementation.
More than 1,500 Bitcoin ATMs will be installed throughout Argentina by the end of 2019. Bitcoin's demand is increasing dramatically in the country while the Argentine peso is undergoing rapid devaluation.
This is what happened this week in Bitcoin. I'll see you next week.
Source link