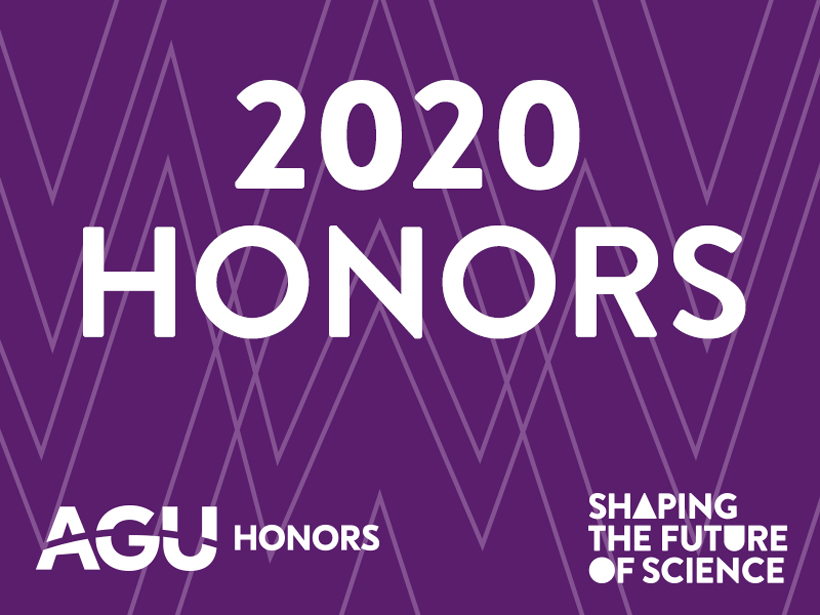 [ad_1]
On behalf of the Earth and Space Science community, we congratulate the 36 individuals who have received the highest honors bestowed by AGU for their excellence in scientific research, education, communication and outreach.
While 2020 has been unpredictable and stressful for all of us in our personal and professional lives, now is a time to recognize those who have pushed the frontiers of our science forward in many different areas. These honorees – scientists, leaders, educators, journalists and communicators – have achieved outstanding achievements and contributions to the earth and space science community. These people embody our shared vision of a thriving, sustainable and fair future for all, powered by discovery, innovation and action. These honorees have built their work with integrity, respect, diversity and collaboration along with a deep commitment to education and awareness.
We also thank the families, friends, colleagues and other supporters of these recipients who have been and continue to be instrumental in their successes.
AGU will host an online celebration to formally acknowledge this year's recipients at the # AGU20 Fall Meeting, Wednesday, December 9 at 3pm PT / 6pm ET / 10pm UTC. It is important to formally acknowledge the outstanding work of our colleagues, even if this year we will not be organizing an awards ceremony in person. This celebration is an opportunity for all of us to be inspired by the successes and stories of these amazing people. We will share more details about the event on agu.org/fall-meeting.
Finally, we are grateful to the Honors and Recognition Committee, Selection Committees, Nominators, Nomination Supporters, Volunteers and Staff for their support and commitment to AGU's Honors Program.
Please join us in congratulating our esteemed class of Union 2020 winners.
—Robin Bell, President, AGU; and LaToya Myles ([email protected]), President, honors and awards committee, AGU
Medals
William Bowie Medal
Rita Colwell, University of Maryland
James B. Macelwane Medal
Kyle C. Armor, University of Washington
Sarah M. Hörst, Johns Hopkins University
Brandon Schmandt, University of New Mexico
Yoshihide Wada, International Institute for Applied Systems Analysis
Kelly Wrighton, Colorado State University
John Adam Fleming Medal
Tamas I. Gombosi, University of Michigan
Walter H. Bucher Medal
Susan L. Beck, University of Arizona
Maurice Ewing Medal
Anthony Brian Watts, University of Oxford
Robert E. Horton Medal
Rien van Genuchten, Federal University of Rio de Janiero
Harry H. Hess Medal
Donald Bruce Dingwell, Ludwig Maximilian University of Munich
Roger Revelle Medal
Claire L. Parkinson, NASA Goddard Space Flight Center
Inge Lehmann Medal
Peter M. Shearer, Scripps Institution of Oceanography, University of California, San Diego
Charles A. Whitten Medal
Kristine M. Larson, University of Colorado Boulder
Joanne Simpson Medal for Mid-Career Scientists
Asmeret Asefaw Berhe, University of California, Merced
Marie Edmonds, University of Cambridge
Isabella Velicogna, University of California, Irvine
Devendra Lal commemorative medal
Subimal Ghosh, Indian Institute of Technology Bombay
Awards
Ambassador Award
Karletta Chief (Diné), University of Arizona
Kaveh Madani, Yale University and Imperial College London
Martha E. Maiden, independent consultant
Erika Marin-Spiotta, University of Wisconsin-Madison
Gerald R. North, University of Texas A&M
Edward A. Flinn III Award
Barbara L. Giles, NASA Goddard Space Flight Center
William Neck Award
Noah Diffenbaugh, Stanford University
Waldo E. Smith Award
Therese Moretto Jorgensen, SciencePrime, LLC
Charles S. Falkenberg Award
Ved Chirayath, NASA's Ames Research Center
International award
Faisal Hossain, University of Washington
Earth and Space Science Education Award
Sheri Klug Boonstra, Arizona State University
Africa Award for Excellence in Earth Science Research
Ameha Atnafu Muluneh, University of Addis Ababa
Africa Award for Excellence in Space Science Research
Olawale S. Bolaji, University of Lagos
Science for Solutions Award
Mette Bendixen, Institute of Arctic and Alpine Research, University of Colorado Boulder
Walter Sullivan Award for Excellence in Science Journalism – Features
Joshua Sokol, freelance writer
David Perlman Award for Excellence in Science Journalism – News
Maya Wei-Haas, National Geographic
Awards
Asahiko Taira International Award for scientific research on ocean drilling
Rob Mckay, Victoria University of Wellington
Climate Communication Award
Jennifer Ann Francis, Woodwell Climate Research Center
[ad_2]
Source link