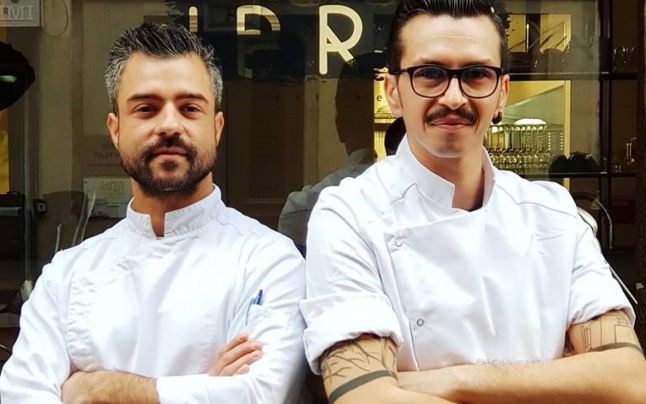 "Recently opened on Mulhouse rue de Paris, Ibrik Kitchen, is based on Balkan cuisine.With drivers Bogdan Alexandrescu and Ovidiu Malisevchi in the kitchen, there is a chicken goulash, stuffed cabbage leaves of pork and creamy poppies, Romanian beef and black truffle, Carpathian fish served with mashed pepper … exotic and very successful "is the description made by Vogue editors.
The two Romanian chefs have been commented on both by Vogue magazine and Le Figaro, the "de Corina" blog.
Ovidiu Malishevschi studied at the famous Le Cordon Bleu school, then did an internship with Frederic Simonin and worked in the restaurant La Dame de Pic, which belongs to the chef Anne-Sophie Pic, the fourth chef who won 3 Michelin stars with the restaurant Maison Pi, winner of Best Female Chef – The Worlds 50 Best Restaurants 2011. In Romania, Ovidiu participated in the show "Chefi la Cutite".
Bogdan Alexandrescu (aka Dexter), recognized for the mustache that pays tribute to Dali, passionate about the food-style area, finalist in the first season "Masterchef", studied at the Paris School of Fine Arts at the Haute Etudes du Goût in Paris .
"In the kitchen, I feel the best, the freest, my desire is to open a restaurant in Romania, even in Bucharest, I would love to come back, I really do not see myself abroad," he told Vogue Ovidiu Malisevschi . For a portion of the package, the French pay 7 euros. And for the Romanians, they leave in the restaurant and 15 euros, according to Observator.tv.
Photo: "Corina" Blog
---
Read also:
Memories of communism Leo Iorga was a rockstar but only had a pair of shoes. The honeymoon spent on a broken bus