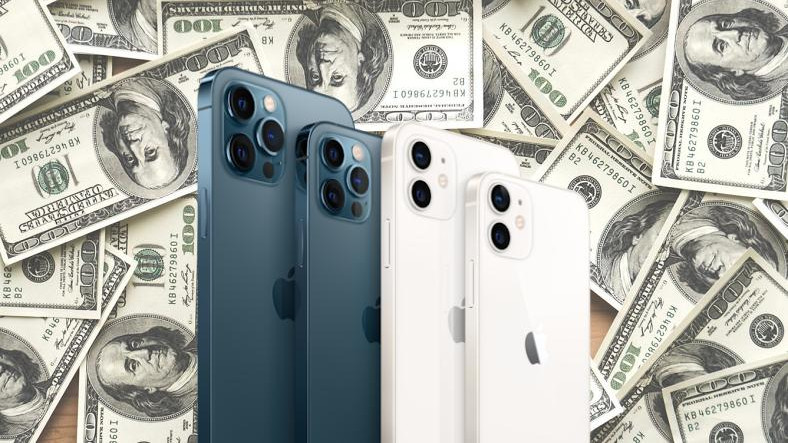 [ad_1]
Apple has not yet announced its 12-household battery replacement tax in Turkey said iPhone prices in Turkey. Also, with the iPhone 12 family, all iPhones have a higher battery replacement rate.
One of the largest tech companies in the world Apple, Fans in Turkey continue to undertake a surprise development. iPhone 12 Although the family price passes through Turkey nearly a month from the promotion is still a statement, Apple unveiled last night Macbook Pro is MacBook Air Models the price Turkey Immediately after the launch he was surprised by Apple fans in Turkey to explain.
Apple, the oddity of this will be felt not enough that it has not yet announced the price for the 12 household iPhone battery replacement fee in Turkey. Additionally, with this statement, Apple has raised the battery replacement rates for all iPhone models. New excursion, that of Apple from the "upgrade" battery replacement fee in July it has since been the second excursion in 2020.
With the iPhone 12 family, the battery replacement fee for all iPhones has increased
According to Apple's statement, the " out of warranty " battery replacement fee for the entire iPhone 12 family, as well as for iPhone X, iPhone XS, iPhone XS Max, iPhone XR, iPhone 11 Pro Max, iPhone 11 Pro and iPhone 11 599 TL Sara. For other models other than these, battery change fee 399 TL Sara.
IPhone models with a 599 TL battery change fee
iPhone X
iPhone XS
iPhone XS Max
iPhone XR
iPhone 11 Pro Max
iPhone 11 Pro
iPhone 11
iPhone 12 Pro Max
iPhone 12 Pro
iPhone 12
iPhone 12 mini
IPhone models with a 399 TL battery change fee
iPhone SE (2nd generation)
iPhone SE
iPhone 6
iPhone 6 Plus
iPhone 6s
iPhone 6s Plus
iPhone 7
iPhone 7 Plus
iPhone 8
iPhone 8 Plus and other supported models
RELATED NEWS
iPhone 12 Mini was the answer to why it's not a small flagship now
Apparently, Apple doesn't care much about large and small capacity differences when determining the battery replacement fee. So the difference is greater iPhone with next generation design and it appears to be among the older generation iPhones. However, Apple's iPhone battery replacement rates within just 3 months 110 TL plus relaunch stimulating …
if(!isMobile) { $(function(){
//facebook window.fbAsyncInit = function() { FB.init({ appId : '1037724072951294', xfbml : true, version : 'v2.5' }); };
(function(d, s, id){ var js, fjs = d.getElementsByTagName(s)[0]; if (d.getElementById(id)) {return;} js = d.createElement(s); js.id = id; js.src = "https://connect.facebook.net/tr_TR/sdk.js"; fjs.parentNode.insertBefore(js, fjs); }(document, 'script', 'facebook-jssdk'));
$('body').on({ click: function() { // facebook save button ajax FB.XFBML.parse(); } }, '.facebook-save');
// share scroll if ($('.content-sticky').length > 0) { if ($(window).width() >= 768) { $(window).on('scroll', function () { var scrollTop = $(this).scrollTop(); $('article').each(function () { if (scrollTop >= ($(this).find('.content-body').offset().top - 76)) { $(this).find('.content-sticky').addClass('sticky'); if (scrollTop >= ($(this).find('.content-body').offset().top + $(this).find('.content-body').height() - ($(this).find('.content-sticky').height() + 92))) { $(this).find('.content-sticky').removeClass('sticky'); $(this).find('.content-sticky').css({'bottom': '0px', 'top': 'auto'}); } else { $(this).find('.content-sticky').addClass('sticky').css({ 'bottom': 'initial', 'top': '76px' }); } } else { $(this).find('.content-sticky').removeClass('sticky').css({'bottom': 'auto', 'top': '0'}); } }); }); } }
// share click $('body').on({ click: function (){ var $this = $(this), dataShareType = $this.attr('data-share-type'), dataType = $this.attr('data-type'), dataId = $this.attr('data-id'), dataPostUrl = $this.attr('data-post-url'), dataTitle = $this.attr('data-title'), dataSef = $this.attr('data-sef');
switch(dataShareType) { case 'facebook': FB.ui({ method: 'share', href: dataSef, }, function(response){ if (response && !response.error_message) { updateHit(); } });
break;
case 'twitter': shareWindow('https://twitter.com/intent/tweet?via=webtekno&text="+encodeURIComponent(dataTitle) + " %E2%96%B6 ' + encodeURIComponent(dataSef)); updateHit(); break;
case 'gplus': shareWindow('https://plus.google.com/share?url=" + encodeURIComponent(dataSef)); updateHit(); break;
case "mail': window.location.href="https://news.google.com/__i/rss/rd/articles/mailto:?subject=" + encodeURIComponent(dataTitle) +'&body='+ encodeURIComponent(dataSef); //updateHit(); break;
case 'whatsapp': window.location.href="whatsapp://send?text=" + encodeURIComponent(dataTitle) +' %E2%96%B6 '+ encodeURIComponent(dataSef); updateHit(); break; }
function shareWindow (url) { window.open(url, "_blank", "toolbar=yes, scrollbars=yes, resizable=yes, top=500, left=500, width=400, height=400"); }
function updateHit () { $.ajax({ type: "POST", url: dataPostUrl, data: {contentId: dataId, contentType: dataType, shareType: dataShareType}, success: function(data) {
if ($('.video-showcase').length > 0) { var $container = $('.video-showcase'); } else if ($('article[data-id="' + dataId + '"]').length > 0) { var $container = $('article[data-id="' + dataId + '"]'); } else if ($('.wt-share-item[data-id="' + dataId + '"]').length > 0) { var $container = $('.wt-share-item[data-id="' + dataId + '"]'); } else { $container = null; }
//var $container = dataType == 'video' ? $('.video-showcase') : $('article[data-id="' + dataId + '"]');
if ( $container != null && $container.length > 0 ) { var $badged = $container.find('.wt-share-badge-' + dataShareType);
var $headerCount = $('.content-header').find('.wt-share-count'), $containerCount = $container.find('.wt-share-count'), value = parseInt($containerCount.html()) + 1;
$container.data('share', value); //$containerCount.html(value);
if ($headerCount.length > 0) { //$headerCount.html(value); }
if ( $badged.length > 0 && (dataShareType == 'facebook' || dataShareType == 'twitter')) { if ($badged.hasClass('is-visible')) { //$badged.html(data); } else { //$badged.addClass('is-visible').html(data); } } }
} }); } } }, '.wt-share-button') }); }


[ad_2]
Source link